Just how many calls for impeachment go unheard?
The left Know!  Do you?
OK, yes and several, many, many on the right do too, because the process has already begun, in congress, yes, that is right!  However, Any one who mentions it (#impeachment) gets bombarded by "stuff"!  The Junk of a gooberfest of unknowns!  It hits the airwaves and the internet and a one world gov. sponsor crawls out of the wood work to network "the net" to bury and to squelch it, followed by  a tee hee, laugh your butt off story of giggle-rama to disparage the soul who said that word! Except, they sure are working overtime while they are laughing!  If you "google" congressman plus impeachment of Omama what you get is a big media push back from ThinkProgress and HuffPo, and Yahoo!  Ummhumm!
Break it to me gently, let me down, that easy way……..
So the problems is not who carries the news, but rather who does not carry these news stories of "this word" being stated, many times by congressman themselves??  So well who doesn't?  Well as it turns out those who ACTUALLY desire it to happen!  Seems to be sloughed off by some as the "impossible dream" like some on TWITTER! But Twitter, has been mighty helpful to many of us!
Lots of people calling for it... but not so much, fang dripping, blood drooling support like those of the left would be doing.  but from those those who should be standing with the CALLERS, it is constant and resolute!! And it will not stop until complete! Lets work backward…shall we??  Well we may end up going in all directions here because of sheer VOLUME!… because they are here….Oh do click on these links, and start giving your support to alternative media, citizens who STILL refuse to take NO for an answer!

This is but a small sampling …..
The Impeach Obama Campaign has been running from day one !  They too narrowed it down to the act of war as most pressing!  So did Wild Bill!  So OK, let's get to the concrete!
Impeach the entire admin for Fast and Furious
The Daily Caller reported Thursday that Rep. Jim Sensenbrenner (R-WI) suggested that impeachment of Obama administration officials involved with Fast and Furious might be the only way to effectively end the scandal
Impeach Kagan
Rep. Gohmert said: "We still have the issue of Justice Kagan. Either she was totally derelict and negligent in her duties as Solicitor General and had absolutely nothing to do with the most important bill to the president, her boss, or she did have something to do with it.
Impeach the entire admin for Libya
Fox News host and former Arkansas Gov. Mike Huckabee (R) compared the administration's handling of the consulate attack in Libya to Watergate, during an appearance on the network Friday morning, and hinted that the president should be impeached for not immediately attributing the violence to terrorism.
Tim Waldmon:  Impeach the entire admin on Lybia!
Frank Gaffney was the guest on AFA's "Today's Issues" radio program this morning to discuss the Right's ongoing obsession with the conspiracy that there has been a systematic cover-up of the attack in Benghazi, Libya back in September.  The conspiracy theory now runs so deep that it prompted Tim Wildmon to go off on an extended rant about how President Obama and his administration lied and "intentionally misled the American people" about what happened in order to protect him ahead of the election.  As such, Wildmon asserted, this "scandal" is worse than Watergate and that had this happened back in 1973, Obama would have been unanimously impeached:
Impeach Justice Roberts
Your failure to investigate these citizenship issues surrounding Mr. Obama at the time questions were raised during his first term places you in a terrible position. You are now confronted with a most difficult choice.  Your own oath of office, sworn before God and the American people, requires you to uphold the Constitution. (If not you, then who?) If you now administer the oath of office for the presidency to a man who by his own admission fails to meet the natural born citizen requirement imposed by that Constitution, you have violated your own oath of office and are rightly subject to impeachment by any House of Representatives, at any time, now or in the future.
Impeach Obama for following Bush doctrine
One of his former supporters slammed Waxman: "You had been one of my heroes."  "You swore to protect the constitution. Who cares about the poltiical expediency — how can you not cosponsor impeachment?"
President Obama has advanced many of the same military policies as President Bush. Why not impeach President Obama, Congressman?
Conservative group launches robocall campaign to impeach Obama.  A conservative group in the US has launched a movement to impeach President Barack Obama, just days after he won a second term in the White House.  The Conservative Majority Fund, the group known primarily for its birther conspiracy spreading, has launched a robocall campaign to gain support for Obama's impeachment.
Obama impeachment over Immigration policy!
On Tuesday, steady as a rock, Senator Jon Kyl (R-AZ) suggested that President Obama could be impeached over his immigration policies. "If the president insists on continuing to ignore parts of the law that he doesn't like, and simply not enforce that law, the primary remedy for that is political," he said.
Obama Impeachment Bill Now Has Seven Official Co-Sponsors.  HCR 107 was introduce [sic] to the House of Representatives on March 7, 2012 sponsored by Representative Walter Jones of North Carolina and joining him in co-sponsorship of the bill is Dan Benishek of Michigan, Dan Burton of Indiana, Mike Coffman of Colorado, John Duncan of Tennessee, Louie Gohmert, proudly serving the great state of  Texas, Tom McClintock of California and Reid Ribble of Wisconsin.
It is about #WAR and YOUTUBE is just overflowing with the REAL stuff!  Impossible is to get it all on a single page!

And the media cover-up of Obama declaring Congress irrelevant!
Alex Jones Day and NIGHT because there is a war on for your mind!
HR Res Con 107
Impeachment process has begun!  Did you local newscaster let you know??
Well did you tap into the presser no one heard?? You know the one ..December 19, 2012? Perhaps? …With Walter Jones, Military, and Charles Rangel ?? YEP!  You're kidding me right… you did not know?

Maybe the better question is to ask NBC, CBS, ABC, FOX News, Sean Hannity, Bill O'Reilley, Greta Van Susteren, Rush Limbaugh, Mark Levin, Megan Kelly, Shepard Smith, Piers Morgan, CNN, What's-her-face, and a load of other on-air-personalities:
When were you going to inform the citizens of the nation of the United States of America that impeachment proceedings, HR Res Con #107 against Barack Obama have BEGUN?
After 4 straight years of calls ….we know very well it would not be getting done or even this close without the demands of citizens, because corporations have lost control of the Chief Executive officers, on so many levels!
Ya see, I knew someone was keeping up with all this!  Something Google cannot match!  That is how Americans are!  I may be feeling the pressure that congress has been carrying or trying to unload, or maybe I am just hoping they felt it But to go through this is very heavy!! It took them, congress,  to be cast into the sea of official irrelevance before acting but…. Memories of ELEPHANTS!  They don't forget nothing, because CITIZENS shall REMEMBER it for them!!  Everything is going to be dredged up! The younger generation may have to study to catch up, but if you are over, say 40, may 35, or had a strong American upbringing then you know what I mean!  Of course there is a mother load!  So here we go ….and if you have one, that is not here, leave a link in the comments!
Regarding Impeachment.  Barack Hussein Obama has committed impeachable acts as President.  He is worthy of being drummed-out of office merely for his ruling by Executive Orders, which are clearly violations of his Oath Of Office.  However, if we succeed in electing Mr. Romney, it will be time to leave Obama to the judgement of Mankind and, if there is any Right Reason still around when those judgements are written, he will be seen as the dangerous and destructive Traitor to The Constitution he is.
If Reelected, Obama Should Be Impeached over Benghazi.  The scandal thus far has at least tarnished and quite possibly implicated everyone from the CIA director, to the secretaries of State and Defense, to the UN ambassador and, of course, the president himself — with no end in sight, because Obama, normally loath to expose himself and even less so in an election season, refuses to answer questions on the subject.  It's not the crime, but the cover-up, we learned in an earlier impeachment, only in this case the crime may be just as bad or worse.  There is no reason to hesitate until after election day.  Barack H. Obama can and should be impeached the day after the election, no matter who wins, if there is enough evidence to obtain a conviction in the Senate.  This presumes, of course, that the Democrat-controlled Senate will examine the evidence.  As we saw in the last impeachment, they might not be so inclined.
Glenn Beck too has been here, from the get go!

Obama Is Making the Case For His Own Impeachment.  Obama is no longer fit for the job.  I don't say this lightly.  I don't say it with glee or joy.  And I don't say it with malice.  But rather with recognition that the Office of the President must be protected.  And the citizens of the United States must protect themselves from a president who is either incapable or unwilling to fulfill his responsibilities to the American people and respect the Constitutionally proscribed limitations on his powers.  Obama's pronouncement about the Supreme Court was so disingenuous and divisive as alone to warrant impeachment proceedings.
Obama: It Does Matter.  Obama is impeachable tomorrow.  It is sad that there isn't a single soul in all of Congress with intelligence enough to bring a solid case for cleaning out the liberal, socialist plague calling itself "The Obama Administration".
Obama impeachment a possibility, says Ron Paul.  Ron Paul said Monday [10/3/2011] that President Barack Obama's targeted killing of Anwar al-Awlaki might be an impeachable offense.  Asked at a Manchester, N.H. town hall meeting about last week's killing of the American-born Al Qaeda leader, the Texas congressman said impeachment would be "possible," but that he wants to know more about how the administration "flouted the law."
Does Fast and Furious Put Impeachment on The Table?  [The Iran-Contra scandal pales by comparison to the so-called Fast and Furious scandal now bubbling in Washington, D.C. In fall 2009, Eric Holder and the Department of Justice decided on a strategy supposedly designed to combat gun trafficking on the Mexican border.  They didn't want the Bureau of Alcohol, Tobacco, Firearms and Explosives to seize illegal firearms anymore; instead, they wanted them to give firearms to members of the Mexican cartels.
The big stall.  [Scroll down]  On April 27, 2011, Obama presented a forged Certificate of Live Birth to the American people.  He is using a Social Security Number that is not his own and he has forged his Selective Service registration.  In order to break the political-media complex, it is critical to remove Obama from office before the 2012 election.  If we do not resist now, it will represent our endorsement of permanent political corruption in Washington, D.C.
President Obama Acting Like King George III.  The specific problem here is that the President has no constitutional authority within the houses of Congress.  He can not order their performance according to his druthers.  Yet, it is clear that Mr. Obama believes he should have such authority, and he is determined to exercise it even if he does not. … This "minor" incident has all the indicia of gravity that would suggest the need for wakefulness to a looming threat of tyranny, such that thoughtful citizens will need to wonder whether they can decently wait the interval of fourteen months for the chance to remove the pretender in an election.
The political-media complex.  There has never been any doubt that Barack Hussein Obama is ineligible for the Presidency according to the Constitution and the binding Supreme Court precedent of Minor vs. Happersett.  At least twenty document experts have now shown that Obama's Certificate of Live Birth is a forgery.  The Social Security Administration has corroborated that Obama is using a Social Security Number not issued to him.  His Selective Service registration is a forgery.  All are felonies.  Sufficient evidence is already available.  The problem is that neither Congress nor any legal authority will take action.
Obama's Failure to Enforce Immigration Law Is 'Dereliction of Duties'.  A Vanderbilt University law professor told a House committee on Tuesday [3/1/2011] that President Barack Obama's failure to enforce federal immigration law is a "dereliction of duties" that puts Americans at risk.  "President Obama's failure to enforce federal immigration laws raises the question of whether we are a nation of laws or a nation without the courage of its convictions," Professor Carol Swain said in her opening remarks.  "This dereliction of duties places our citizens at risk, and it damages our national sovereignty and standing in the world."
Obama Completes His Trifecta.  [Scroll down]  On the judiciary side, we witness the executive ignoring a Federal Court ruling on ObamaCare's unconstitutionality, the refusal — to the point where an order of compliance had to be issued from the bench — to refrain from imposing an illegal moratorium on oil drilling; and, now the clearest and most blatant power grab of all.  Obama has arrogated to himself, in the matter of DOMA, the power to declare that law unconstitutional and order his Justice Department not to contest lawsuits challenging it.
Obama to God and America: You're Wrong About Marriage.  As one who helped draft the first version of the Defense of Marriage Act (DOMA), I regard Mr. Obama's order to Attorney General Eric H. Holder Jr. to abandon DOMA's legal defense as lawless, reckless, arrogant and a violation of his oath of office.  I think it is an impeachable offense.
Gingrich rips Obama on DOMA but denies call for impreachment [sic].  Former House Speaker Newt Gingrich (R-Ga.) stressed Friday [2/25/2011] that he does not believe President Obama should be impeached in reaction to an interview he gave where impeachment [sic] of the president was discussed. … In the interview, Gingrich said that if former Alaska Gov. Sarah Palin (R) had been elected president and taken a similar action, she would be hearing calls for impeachment.
Throwing in the Towel on the Constitution.  Article 2 of the U.S. Constitution requires that each new president take the following oath:  I do solemnly swear (or affirm) that I will faithfully execute the Office of President of the United States, and will to the best of my ability, preserve, protect and defend the Constitution of the United States.  President Obama announced this week that he will violate that oath.
The executive can't pick and choose which laws to defend.  One of the supposed great crimes of the Bush administration was the "politicization" of the Justice Department, a drumbeat we heard repeatedly, even after a politically motivated criminal investigation eventually found no wrongdoing.  But nothing the Bush administration did compares with what the Obama administration is doing openly.
Obama gets out of way of gay marriage.  The Obama administration announced Wednesday that it had withdrawn its legal support for the federal Defense of Marriage Act, stating that the law is unconstitutional and therefore the administration is under no obligation to defend it.  It is not the function of the Executive Branch to decide which laws are constitutional and which laws are not.
Obama Not Just Above the Law — He Is the Law.  During his presidential campaign, Obama stated that he did not support same-sex marriage but that he did believe that DOMA should be repealed.  He gave no hint that he would take it upon himself to issue a presidential edict, without a congressional bill placed before him, forbidding the executive branch from enforcing the law.  But that is precisely what he did this week.
Is the President Above the Law?  This is the uncomfortable question many Americans are asking after President Obama's lawless decision to stop defending in federal court the law of the land on the institution of marriage.
Obama Stepdown.  Obama has been calling for transparency, meaningful democracy, a government peaceful transition, history in the making, on and on for Egypt, while Obama himself has failed miserably in America.  Failure in open government, open public information about himself, unwilling to be transparent in his records, birth information, legislative activity in the dark of night, filling his administration with communist, radicals, socialist, progressives and supporting every manner of immoral, dishonorable, and unconstitutional action … Obama is the mirror image of Hosni Mubarak … and maybe worse.
The Progressive Disdain for the Rule of Law.  Earlier last week, federal judge Roger Vinson effectively struck down the ObamaCare health care law on the unconstitutionality of the individual mandate.  The Obama administration is already sending out signals that it intends to ignore the decision and continue implementation.  The issue is inevitably headed to the Supreme Court.  If the Court rules ObamaCare unconstitutional, will Mr. Obama abide by this decision? … Based on Mr. Obama's past history of words and actions, I believe it is unlikely that he will follow the law over his obsession to implement his progressive agenda.  If this is the case, when will talk of a "constitutional crisis" turn into calls for impeachment?
Obama Must be Impeached: He's Either Incompetent, or Purposely Failing.  The only way Barack is an acceptable president is if you're an opponent of America's greatest achievements.  Therefore, if you support Obama it means you want to revolutionize the US.  But no democratic country knowingly elects leaders to debase their country, give away power, bankrupt the treasury, incorporate socialism, dissolve constitutional rights, cripple capitalism, and menace every citizen with reckless policies.  That would be ridiculous and anti-American.  Barack has done all these things.  Therefore, he must be impeached.
Should Obama Be Impeached?  Obama is purposely undermining the US Constitution.  In doing so, his actions make unstable every institution and office below the presidency, since the Constitution is the foundation of every government power and official decision.
Impeachment past due.  Impeachment of the current occupant of the White House is the fastest growing idea in America, today.  Each passing day brings new and powerful voices of support.  Americans have sat frustrated and helpless for nearly two years, watching the Usurper and his unindicted co-conspirators in his administration and the Democrat Party, destroy the country and shred the Constitution, feeling powerless to do anything to stop it.  The rising calls for impeachment, from every part of America, from people you've heard of and people you haven't, are changing that.
Celebrate the American Revolution — Impeach Obama.  Essential themes from the original American Revolution are resurfacing during Obama's short tenure.  As always, the People are bigger than any one man, and so it is quite fitting we return to our roots to fight tyranny by rising up against Obama's imperial presidency, forcefully and legally removing him, just like rejecting Mad King George.  Timeless revolutionary issues boil down to Natural Law arguments concerning rights to property, the purpose of government, sovereignty and tyranny.
Obama and Pelosi's Dangerously Short Detention Spans.  The casual manner in which Barack Obama flip flops on national security matters should have Americans calling for his impeachment for treason on the grounds of providing aid and comfort to our enemies.  Under pressure from the ACLU, Obama authorized the release of classified memos detailing enhanced interrogation techniques used against high-value detainees, giving them a nice addition to their play book and rendering these methods useless.
President's socialist takeover must be stopped.  President Obama has engaged in numerous high crimes and misdemeanors.  The Democratic majority in Congress is in peril as Americans reject his agenda.  Yet more must be done:  Mr. Obama should be impeached.  He is slowly — piece by painful piece — erecting a socialist dictatorship.  We are not there — yet.  But he is putting America on that dangerous path.
Impeach Obama Campaign:  How long must we wait… how long should we sit back and permit Barack Hussein Obama to rip apart the fabric of this country before we take action?  Are you terrified at Barack Obama's campaign to change our country into a third-world nation?  Are you willing to sit back and watch Obama bulldoze our great nation?  Are you willing to let him construct a totalitarian regime… fascism, socialism, Obamaism… take your pick?
President Obama Being Held To A Different Standard?  When President Harry Truman was told by the Supreme Court of the United States of America that his attempts to seize the coal and steel industries were Unconstitutional, why is Barack Hussein Obama being held to a different standard?  Does he believe he is above the law?  Is he betting that the current leadership, under Nancy Pelosi would never begin Impeachment Proceedings?
Impeach the president?  The Slaughter Solution is a dagger aimed at the heart of our system of checks and balances.  It would enable the Democrats to establish an ominous precedent:  The lawmaking process can be rigged to ensure the passage of any legislation without democratic accountability or even a congressional majority.  It is the road to a soft tyranny.  James Madison must be turning in his grave.  Mr. Obama is imposing a leftist revolution.  Since coming to office, he has behaved without any constitutional restraints.
Is Obama's "Czar System" grounds for impeachment?  Barack Obama's Czar System … is directly an affair of state and seemingly an end run around the Separation of Powers.  According to an article recently published at Examiner.com by Patrick McMahon, there are now thirty-one of these czars, covering areas from terrorism to domestic violence.  Congress has not vetted a single one of them, as far as I know.  Indeed, with only a couple of exceptions (Dennis Ross, etc.), we know who few of them are.
Is Obama's BP Shakedown an Impeachable Offense?  As former counsel and trainer in political tactics for ACORN, President Obama used a well-known ACORN tactic, the shakedown, in getting BP to create the $20 billion escrow (slush!) fund without any law, legal controls, or binding rules to guide it on how, to whom, and how much those injured materially by the oil spill will be paid.
The Democrats Must Be Stopped.  I don't think Barack Obama will get a second term, but at the pace the Democrats are going, four years may do more damage than our country can recover from.  Incompetence, for better or worse, is not a ground for impeachment.  So it is urgently necessary that the Democrats lose control over the House, and if at all possible the Senate, in November.
What Did President Obama Know And When Did He Know It?  Unfortunately, there are no alleged reporters in all of the Washington press corps who are either smart or curious enough to ask the President what the American people are to believe about the appearance of the Administration coordinating with unions to intimidate private citizens in their homes, terrorize their children, and break federal laws by organizing mobs to occupy and shut down bank buildings.  If the Executive branch of the government were conspiring with any group to break the laws of this nation, would that be grounds for impeachment, if not a few questions on the subject?
Deem Obama Impeached?  If the President is not going to insist that the Constitution must be followed — including that pesky little clause that bills must be approved by a vote in both houses of Congress — then he is not fulfilling his oath to "support and defend the Constitution against all enemies foreign and domestic." … The "deem and pass" approach violates Article 1 Section 7:  "in all such Cases the Votes of both Houses shall be determined by Yeas and Nays, and the Names of the Persons voting for and against the Bill shall be entered on the Journal of each House respectively."
Sestak-Gate:  Did Obama Commit an Impeachable Offense?  Rep. Joe Sestak, the winner of the Pennsylvania Democratic Senate primary, says quite openly and repeatedly that he was offered a job by the White House if he would drop out of the race against Sen. Arlen Specter.  Having secured Specter's conversion to the Democratic Party, thus giving the party a filibuster-proof majority in the Senate, the Obama administration obviously sought to keep its word to Specter that it would do its utmost to deliver the Democratic nomination to him.  According to Sestak, that included a job offer.
Congressman:  White House Job Offer to Sestak May Be an 'Impeachable' Offense.  Rep. Joe Sestak's allegation that the White House offered him a job to drop out of the Pennsylvania Senate primary race against Arlen Specter is a crime that could lead to the impeachment of President Obama, Rep. Darrell Issa said.  But the decision by the Pennsylvania congressman not to elaborate on a so-called deal also could become a political problem as Sestak tries for the U.S. Senate seat.
Is the Impeachment of Barack Obama Moving Forward?  So did Barack Hussein Obama commit a felony by offering Congressman Joe Sestak a "high ranking" Cabinet position to drop out of the Pennsylvania Senate race against Sen. Arlen Specter?  Let's be clear.  The commission of an actual felony is not actually required in order to impeach a sitting president, but if Sestak's allegation is true, and if Barack Hussein Obama's fingerprints are all over this offer, that's a felony, and drawing up Articles of Impeachment against Barack Obama becomes a necessity.
Laws, not lies.  As support for impeaching Barak Hussein Obama grows, there is a great deal of discussion of the grounds that can be cited for impeachment.  One offense that should be highlighted early on is his unceasing lying to the American people.  As it relates to him as "president", it began during his campaign, when he was out to get people to vote for him.
Obama's Grave Dereliction of Duty as an Impeachable Act.  This article considers "Grave Dereliction of Duty" as a fundamental problem demanding impeachment and removal.  Can chronic poor decision-making really justify removal of democratically elected leaders?  Why not?  After all, what is a presidency made from — except decisions?  Further, all must admit at a certain point, truly horrific decision-making must cause a leader to be ejected for the good of the whole state.  There is no reason to view a disastrous presidency as a fatalistic necessity forced upon a democracy, despite legal recourse of removal.
Ridding Ourselves of Obama.  The drawback of impeachment is the way it would inevitably cast Obama as the victim of predatory politicians.  It is not a good choice.  Presumably, lying about one's eligibility to hold the office of President and spending huge sums to ensure that one's birth certificate and actual place of birth shall remain unknown would justify removal.
Are the Sins of the Fatherless the Root of Obama's Tyranny?  Does Obama's anti-democratic ideology result from his dysfunctional childhood?  An intriguing book, Faith of the Fatherless:  The Psychology of Atheism, by Paul Vitz, argues this type background is a common precursor to the classic tyrant's personality.  This suggests Barack's beef with America might result from his own deficient past.
Obama & State Takeover By Union:  Syndicalism.  [Scroll down]  Marxists believe capitalists are thieves; so to lie, cheat and steal from capitalists is not simply justified, it's a prerequisite, as crazed as that sounds. Obama supports unions partly for being the horse he rode to victory. But more profoundly, because Marxists have turned unions into communist satellites. And so Obama, in his own lost way, is trying to heal America by making it Marxist. … For above reasons, Barack Obama must be impeached ASAP before a gigantic catastrophe occurs via Obama's hatred of America, freedom, democracy and capitalism.
Our One-Term President.  It's a good bet right now that Barack Obama will be a one-term president.  The enthusiasm that once shielded this hyphenated American has dissipated.  His supporters, although still numerous, have discovered that he lacks Bill Clinton's centrist instincts, and even his charm.  The anti-Bush mania that swept the country from 2006-09 finally burned itself out.
50 Impeachable Crimes and Counting.  [#16]  Obama executive order signed in Dec. 2009 that allows Interpol to operate in US territory with impunity and without oversight by Congress, the courts, FBI or local law enforcement.  [#17]  Deployment of 1,200 National Guard troops to border states where they will not, under any circumstances, be used to stop the flow of illegal aliens or drug traffickers.
Solving the Obama Problem.  [Scroll down]  Some would go even further. Former Colorado representative Tom Tancredo has cited the president's refusal to enforce immigration law as an impeachable offense, and Arizona state senator Russell Pearce, in a recent interview, has strongly — "absolutely" is the word he used — concurred.  "Five to ten thousand folks come across that border daily," he declares, "and what's coming across — 20 percent have criminal convictions — are gang members, drug smugglers, human smugglers, child molesters, rapists.  It's an invasion.  It's in violation of the Constitution.  Yes, it's impeachable.  He [Obama] not only neglects to do it, now he's refusing to do it.  It's impeachable."
Review of David Limbaugh's Crimes Against Liberty.  "This book is about a young presidency," Limbaugh opens.  "[Y]oung, but already the most destructive in American history  Everything about Barack Obama's radical background signals his visceral contempt for America — its culture, its values, and its political and economic systems.  His unmistakable goal is to bring America down to size — an America that has been, in his view, too big for its britches, selfish, exploitative, unfairly wealthy, arrogant, and dismissive." … Limbaugh isn't calling for impeachment — he doesn't think Obama has committed impeachable offenses, at least not yet.
Democrat wants Obama impeached.  Kesha Rogers, a Lyndon LaRouche follower and Democratic challenger to U.S. Rep. Pete Olson, R-Sugar Land, has been campaigning on a platform that starts with impeaching President Barack Obama.  Her campaign sent out a news release Friday calling on top members of the executive branch to relieve the president of his duties via the 25th Amendment to the Constitution, citing "numerous public displays of President Obama's ongoing psychological meltdown."  Going nuts is not a crime, but treason is.
The impeachment of Barack Obama?  Jonathan Chait predicts:  ["]Hear me now and believe me later:  If Republicans win and maintain control of the House of Representatives, they are going to impeach President Obama.  They won't do it right away.  And they won't succeed in removing Obama.  (You need 67 Senate votes.)  But if Obama wins a second term, the House will vote to impeach him before he leaves office.["]
Democrat Civil War Already Underway.  The long knives are going to come out after the election, when Democrats wake up to the damage Barack Obama has done to their party.  I have long suspected that there will be a serious effort behind the scenes to get him off the ticket in 2012, as happened to LBJ, or even out of the Oval Office before his term is over.  Those Democrats who want to survive in office — particularly those Senators facing re-election in 2012 — will see Obama at the top of the ticket as their pathway to political oblivion, along with their party.
Is Impeachment Inevitable?  The incoming Republican Congress must be ready, willing and able to depose Obama.  He's already committed many crimes worthy of investigation and will likely continue to abuse the power granted to him by the American people, and we've had enough.  And for those Republicans who might be getting cold feet, be aware — if you don't oppose the Obama agenda by any and all means including impeachment, as the American people demand, we'll toss you out on your behinds in the next election just like him.

Congressmen Can Be Voted Out of Office, But Not Impeached.  Each voter's sole means of determining who serves, or does not serve, in the 112th Congress (2011-2012) is through the election of one member out of 435.  Each will have only this one chance — no do-overs.  Death, resignation, disqualification, expulsion, and expiration of term are the only routes by which a member leaves Congress, and none is within voter control.  Though some states have enacted recall procedures, these are next to worthless, considering all the required steps, spanning unfriendly time frames, with no assurance of success in the end.
Liberals worry GOP will attempt to impeach Obama.  With the House now firmly in Republican hands, some on the left have and are voicing concerns that the GOP will attempt to impeach President Barack Obama.  While liberals, such as MSNBC's Ed Schultz, the New Republic's Jonathan Chait, and various bloggers wring their hands over the sinister hypothetical, the Republican leadership is denying that they have even considered the possibility.  "Liberal commentators are simply making things up," Republican leader John Boehner's spokesman Michael Steel told The Daily Caller.
Obama and ruling by edict as a direct challenge to the authority of the congress.  The two co-equal branches of government must immediately exercise their constitutional duty to protect and defend the constitution.  The Judiciary must act as a matter of utmost urgency to adjudicate the eligibility question.  In the event that Mr. Obama were declared ineligible he could be removed as quickly as the court's ruling was signed.  We have a constitution.  Hiding from or slow waking it is done at the peril of the nation.  Congress should immediately file articles of impeachment.  The grounds for such action are legion and fully identified in the press.  This would serve the purpose of de-legitimizing any contemplated acts, in particular the authority to declare a national emergency with unlawful use of federal forces.
Mr. President, Your Helicopter Is Ready!  From out-of-control spending resulting in trillions of dollars added to the deficit, to Marxist programs repulsive to most Americans, to double-digit unemployment, to programs that promote class and racial warfare, to complete abandonment of border security and immigration law enforcement, and to inept and naïve mismanagement of foreign affairs, Barack Obama has done enough damage to America.
How Political Correctness Gave America a Con-Man President.  [Scroll down]  Finally, Obama's likely categorization as a Malignant Narcissist is unnerving because when conditions are most dire, we can expect the worst from Obama as a leader.  We have already seen, even after getting repudiated in a gruesome election, Barack still demands hard leftist policies.  And for all these reasons, he must be impeached from office for the survival of the American Republic.
First call for impeachment by member of Congress.  A Republican congressman has told a left-leaning blog that if there is collective support, he would favor the impeachment of Barack Obama over his decision to stop defending the federal Defense of Marriage Act.
Retired general: Congress should give Obama ultimatum.  [Scroll down]  At the same time, Times columnist Jeffrey T. Kuhner, who also is president of the Edmund Burke Institute, wrote, "President Obama has engaged in numerous high crimes and misdemeanors.  The Democratic majority in Congress is in peril as Americans reject his agenda.  Yet more must be done:  Mr. Obama should be impeached."
Articles of Impeachment:  Barack Hussein Obama has undermined the integrity of his office, has brought disrepute on the Presidency, has betrayed his trust as President, and has acted in a manner subversive of the rule of law and justice, to the manifest injury of the people of the United States.  Wherefore, Barack Hussein Obama, by such conduct, warrants impeachment and trial, and removal from office and disqualification to hold and enjoy any office of honor, trust or profit under the United States.
Ex-congressman: President a 'threat,' must be impeached.  A former congressman and GOP presidential candidate says, for current members of the House and Senate to uphold their oath of office that includes the defense of the United States against enemies "foreign and domestic," they need to be filing impeachment charges against Barack Obama.
Nader: Impeach Obama for 'war crimes'.  Former presidential candidate Ralph Nader says President Obama should be impeached for committing "war crimes" in Iraq and Afghanistan.  The consumer advocate and former presidential candidate said in an interview that aired Friday that Obama has committed "war crimes" on the same level as President Bush.
Obama's War.  In ordering air and naval strikes on a country that neither threatened nor attacked the United States, did President Obama commit an impeachable act?  So it would seem.  For the framers of the Constitution were precise.  The power to declare war is entrusted solely to Congress.  From King William's War to Queen Anne's War to King George's War to the Seven Years' War, the colonists had had their fill of royal wars.  To no principle were they more committed than that the power to declare war must be separate from the power to wage it.  And Obama usurped that power.
GOP lawyer drafts Obama impeachment.  A prominent libertarian constitutional lawyer and civil libertarian has drafted an article of impeachment against President Obama over his attack on Libya, throwing down a legal gauntlet that could be picked up by some Congressional Republicans.
Obama's Illegal Lottery:  A Google search on "Dinner with Barack" and "Backstage with Barack" will yield ample evidence that during 2007 and 2008, the Obama campaign sent out numerous promotions that involved the following proposition.  In exchange for a donation of $5 or more, the donor would gain the chance to be selected to have an expenses-paid trip to have dinner with Barack Obama or go backstage with Obama at the Democratic National Convention. … If this issue were to come to trial in the Senate, the most ardent Obama supporters would find themselves hard-pressed to defend him. … Obama's fundraising methods allow checkmate in one move by the first representative who steps up to demand impeachment.
Obama's ineligibility:  Has the time come for rebellion?  Americans have a right to know whether or not the occupant of the White House is a criminal.  The political elite and the state-run media do not want anyone to talk about it.  They say that there are more important issues to discuss than if Barack Hussein Obama has committed felonies before and after arriving in the Oval Office.  The conspiracy of silence by the political elite and the associated news blackout can only be explained by complicity in a cover-up of possible criminal acts.  If there is another explanation, I would like to know it.
Obama Not Subject to Charges of Treason?  Treason is generally defined as "betrayal of country: a violation of the allegiance owed by somebody to his or her own country, e.g. by aiding an enemy."  High treason is defined as "treason perpetrated by somebody against his or her own country."  Another apt definition of treason is "any attempt to overthrow the government or impair the well being of a state to which one owes allegiance; the crime of giving aid or comfort to the enemies of one's government."  It is my contention that Barack Hussein Obama has perpetrated all of these.
Shift to Second Gear on Birth Certificate Challenge.  [Scroll down]  According to a private investigator, Susan Daniels, whose work was validated by at least two other investigators I'm aware of, the Social Security number that Obama used for approximately 25 years was issued with a Connecticut-based number, though neither Obama nor anyone in his family lived in that state at any point during their lifetimes. … Use of another person's social security number is a felony.
Obama Guilty of a Felony?  It has been reported that Barack Hussein Obama has used various social security numbers.  These have been derived from national databases.  Most of the ones reported are most likely erroneous information.  However, there is one that stands out.  It is the number  ••• •• ••••  that was issued out of the state of Connecticut.  It is this number that he has fraudulently used (and possibly still using) and is thus guilty of multiple felonies.
Liberal Columnist Admits, Obama Could Be Impeached Over Libya.  Although a liberal himself, influential columnist Glenn Greenwald of Salon.com has been consistent in saying Barack Obama is violating the Constitution with his undeclared war in Libya.  Greenwald is interviewed by Amy Goodman, the producer of the far-Left radio and television "news" program "Democracy Now!"
Laws are for the little people, not President Obama.  Based on his behavior, it's apparent the president views himself as a man so lofty in vision and skill that he's exempt from the decrees imposed on the little people. … The following description of Title 18, subsection 607 U.S.C. is so straightforward even a layperson could understand.  ["]It shall be unlawful for an individual who is an officer or employee of the Federal Government, including the President, Vice President, and Members of Congress, to solicit or receive a donation of money or other thing of value in connection with a Federal, State, or local election, while in any room or building occupied in the discharge of official duties.["]
Read the law for yourself.
Is Obama's End Run Around Congress On Debt Ceiling An Impeachable Offense?  Not that I've been watching closely, but so far I count at least four possible grounds for the impeachment of the president of these United States.  I am not suggesting impeachment proceedings would be a good idea.  I'm just keeping score, the same thing the president does.
Rep. Tim Scott: Obama side-stepping Congress over debt ceiling is 'impeachable act'.  Congressman Tim Scott, South Carolina Republican, spoke to his constituents on Thursday [7/7/2011] about the debt ceiling debate in Washington.  When asked about the constitutionality of the president bypassing the Congress over the debt ceiling issue, Mr. Scott answered…
Obama's Watergate.  After taking office, Barack Hussein Obama began a coordinated effort with U.S. Attorney General Eric Holder and Secretary of State Hillary Clinton to control the purchases and ownership of guns in the United States.  To justify the implementation of tougher gun control laws and in a direct assault on the Second Amendment of the U.S. Constitution, this administration cited a statement made to Congress by William Hoover, Assistant Director for Field Operations for the BATFE on February 7, 2008.  According to that report, 90 percent of the weapons used by the Mexican drug cartels were purchased from or originated from the U.S.  That stunning revelation empowered the Obama administration to solicit public support for banning so-called assault weapons in the U.S., and calling for tougher gun control laws.  The problem, however, is that the 2008 statement is disingenuous at best.
Death of the Democratic Party.  Obama should be indicted on multiple felony counts.  All members of Congress should be indicted on a charge of Misprision of felony for actively covering up his ongoing felonies.  When Obama took the Presidential "Oath or Affirmation" of office, knowing that he is not "a natural born Citizen," he committed the crime of perjury or false swearing (see Article II, Section 1, Clause 7).  Obama's purported "Oath or Affirmation" being perjured from the beginning, makes every subsequent act in the usurped "Office of President" a criminal offense under Title 18, United States Code, Section 242.
Steve King on default: Obama could be impeached.  Rep. Steve King (R-Iowa) said Monday [7/25/2011] that President Barack Obama "would be impeached" if the nation falls into default. … King is among the House Republicans who voted for the so-called "Cut, Cap and Balance" plan that would introduce a constitutional amendment to require a balanced budget.  The Senate last week dismissed the House bill.
Treason, Redux.  I don't know about you, but I always thought that it was an act of treason to intentionally undermine the Constitution.  I also thought that intentionally committing acts that economically cripple the country, thus rendering her incapable of defending herself or standing as a sovereign nation was also treason.  And doing this at a time when the country is, rightfully or wrongfully, at war, thus, giving aid and comfort to our enemies, in my never humble opinion, leaves no doubt that this is treason.
Confessions of a Birther Evangelist.  In the end, Birtherism would not be a big deal at all, if it weren't for the fact that we have nearly an entire executive branch engaged in the office of running guns to drug cartels in Mexico — arguably an act of war, starting and perpetuating a war in Libya without congressional consent, "borrowing" billions of funds from the Federal Employees Pension Fund so as not to violate a debt ceiling that is already being violated, running election campaigns out of the White House, not enforcing polling place protection laws from Panther thugs, circumventing fed fund restrictions to abortion clinics, arranging Wall Street payouts to unions for stocks created out of thin air — and probably more.
Herman Cain: Impeaching Obama would be 'a great thing'.  Even among the most conservative, anti-Obama members of Congress, supporting impeachment is a fringe position.  But then, Cain isn't really competing for the median voter at this point anyway.
A Man for all Treasons and the US Constitution.  By treason I mean attitudes, motives, speech and/or activities that are not simply un-American, but are squarely anti-American in intent and effect.  Within the past few years we have seen economic treason, judicial treason, and political treason to name just a few.  The great number of treasonous activities presently going on in this country precludes me from making an in-depth analysis, but I will attempt something of an overview.
Obama versus the Democrats.  Obama is reneging on his declaration that if he didn't have things on track in three years, he should be a one-term president.  No sane people expected an incompetent megalomaniac to really live up to that declaration, now did we?  Two things have saved Obama to date:  the media and Obama's "blackness."  Had it not been for either, Obama's choices would have been impeachment or resignation.
Marine who called President Obama the 'domestic enemy' could be discharged.  A Marine in San Diego who has called President Obama the "domestic enemy" and says he will not follow unlawful orders from the president now faces dismissal from the Marine Corps.  Sgt. Gary Stein, who runs the "Armed Forces Tea Party" Facebook page and website, could receive an administrative discharge from the Marines over his comments.  On Stein's Facebook page, he wrote, "Obama is the 'domestic enemy' our oath speaks about" and said he would not follow what he considered unlawful orders, like taking guns from U.S. citizens.  He also wrote that statements by Defense Secretary Leon Panetta about going to war without congressional approval were unconstitutional and a "high crime."
How Barack Obama avoids prison.  Regardless of who wins in November, Obama's alleged crimes will never be fully investigated and his personal history will never be exposed by either Democrat or Republican politicians.  Their involvement in a conspiracy of silence is unmistakable and their protection of Obama stems solely from political self-interest.  Barack Obama has been issued a "get out of jail free" card by a corrupt political establishment and a dishonest media.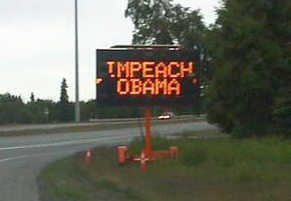 Construction signs in Alaska hacked to read 'impeach Obama'.  Construction signs on roads in Anchorage, Alaska, were hacked this week to suggest that President Obama be impeached.
DOT Construction Signs Hacked To Read 'Impeach Obama'.  Several electronic road construction signs around Anchorage were hacked late Wednesday night or early Thursday morning, according to the state Department of Transportation.  Signs that normally display closure and detour information, like the one on Minnesota Drive near 100th Avenue, were changed to read "Impeach Obama."
50 Impeachable Crimes and Counting.  Whether or not any of these troubling examples will lead to Obama's impeachment and/or imprisonment, only time will tell.  Regardless, taken together they paint a picture of an out of control President who lacks basic American values and has little to no respect for the rule of law.
From the White House to the Big House.  Putting aside Obama's inept leadership, weakening of our national defenses and transparent attempt to socialize our great nation, there are a number of more practical crimes that once investigated could lead to Obama's impeachment and perhaps even his well deserved imprisonment.
Is President Obama Really A Socialist?  President Obama says that income taxes must be raised on the rich because they don't pay their fair share.  The indisputable facts from official government sources say otherwise. [...] Is he ignorant?  Wouldn't somebody in his Administration whisper to him that he is peddling nonsense?  The answer is that to President Obama this is still not fair because he is a Marxist.  To a Marxist, the fact that the top 1% earn more income than the bottom 99% is not fair, no matter how they earn it, fairly or not.
Obama to Share Missile Defense Secrets With Russia?  Bill Gertz of the Washington Times reports that President Barack Obama has indicated he is prepared to convey information about secret American missile defense technology to Russia. … In the pursuit of a thirty-year-old leftist grudge against President Ronald Reagan's policy of "peace through strength," Obama has now apparently suggested his willingness to give away a technological edge eagerly coveted by Russia and especially by China.
Obama The Tyrant Must Be Stopped.  To be blunt, I am expressly saying that Obama's actions are illegitimate.  He is a menace.  Indeed, his actions are in a sense "seditious," in the (Webster's) definition of "incitement to resistance… against lawful authority."  No, Barack Obama is NOT "lawful authority."  The Constitution is.  And he has knowingly violated it, even by the testimony of his own solicitor general.
Obama The Tyrant Must Be Stopped.  To be blunt, I am expressly saying that Obama's actions are illegitimate.  He is a menace.  Indeed, his actions are in a sense "seditious," in the (Webster's) definition of "incitement to resistance… against lawful authority."  No, Barack Obama is NOT "lawful authority."  The Constitution is.  And he has knowingly violated it, even by the testimony of his own solicitor general.
Obama's 2012: Governing Without Congress.  2011 was Barack Obama's year of living dangerously.  Whether it was the debt ceiling showdown, the prospect of closing the federal government or the push for a macroeconomically meaningless payroll tax cut, the president's standard operating procedure was to wait until the eleventh hour, then hope that the resultant chaos in Congress would be sufficient to get the legislative branch to bend to his will.  If a contempt for Congress was the hallmark of Obama's lawmaking strategy in 2011, however, the president looks to be taking it one step further in 2012:  ignoring the legislative branch outright.
Obama's Tyrannical Tendencies.  For years now I've warned that Barack Obama gives evidence of disturbingly authoritarian tendencies.  Wednesday's [1/4/2012] ferociously unconstitutional "recess appointments" of three members of the National Labor Relations Board and a new director for the Consumer Financial Protection Bureau were just the latest in a long line of abusive expansions of raw executive power.  On multiple levels, the recess appointments make a mockery of the constitutional construct.
Mark Levin: 'We Have a Constitutional Crisis'.  On his radio show last night, Mark Levin said that President Barack Obama has caused a "constitutional crisis" by appointing members to the National Labor Relations Board and a director to the Consumer Financial Protection Bureau without going through the constitutionally required Senate confirmation process.  "We have a constitutional crisis," Levin said.  "It is in fact a constitutional crisis."
King Barack's power grab.  Presidents have the right to make temporary appointments when Congress is away from Washington, of course, and both parties have used that power.  But Obama is the first president to declare that he, and he alone, can decide whether the Senate — which must confirm his appointments — is actually meeting.
Obama's Watergate:  A year ago this week, U.S. Border Patrol Agent Brian Terry was murdered.  He died protecting his country from brutal Mexican gangsters.  Two AK-47 assault rifles were found at his death site.  We now know the horrifying truth:  Agent Terry was killed by weapons that were part of an illegal Obama administration operation to smuggle arms to the dangerous drug cartels.  He was a victim of his own government.  This is not only a major scandal; it is a high crime that potentially reaches all the way to the White House, implicating senior officials.  It is President Obama's Watergate.
Final Analysis of President Obama's Certificate of Live Birth.  I have irrefutably proven that the Certificate of Live Birth that President Obama presented to the world on April 27, 2011 is a fraudulently created document put together using the Adobe Photoshop or Illustrator or other graphic programs on a Mac OS computer and the creation of this forgery of a public document constitutes a class B felony in Hawaii and multiple violations under U.S. Code Title 18, Part 1, Chapter 47, Sec. 1028, and therefore an impeachable offense.  When this comes to the public's attention, it will be the greatest scandal in the country's history — nothing comes even close.
'Nothing More Impeachable' Than War Without Authorization, Says Constitutional Scholar.  Louis Fisher, a scholar in residence at the Constitution Project who served for 40 years as a constitutional law expert at the Library of Congress, says Americans and members of Congress should understand that President Barack Obama committed a "very grave offense" against the Constitution in taking military action in Libya without congressional authorization.
The Hypocrisy of Politicians.  If George W. Bush were still in office, you could imagine calls for his impeachment for rejecting the advice of the Pentagon general counsel and the head of the Justice Department's Office of Legal Counsel, both of whom told him our intervention in Libya met the definition of "hostilities" under the War Powers Act.
George Will wonders why liberals aren't 'clamoring' for Obama's impeachment.  It's been 66 days since President Barack Obama authorized military action against Libyan dictator Muammar Gaddafi.  However, last Friday marked an important date, signaling Congress most authorize the military action or U.S. forces will be required to withdraw in accordance with the War Powers Resolution.  But that date passed with little fanfare, especially from a Democratic Party in Congress that was very vocal about former President George W. Bush's incursion into Iraq.
Obama Gives UK Nuke Secrets to Russia — He MUST now be removed from office.  On 4 February 2011, Matthew Moore, Gordon Rayner and Christopher Hope reporting for the Daily Telegraph wrote:  "Information about every Trident missile the US supplies to Britain will be given to Russia, as part of an arms control deal signed by President Barack Obama next week."  So, not only has Obama destroyed the USA's defense system but, he is bent upon taking Great Britain down with it.
The case for impeachment.  [Scroll down]  For the first time in American history, we have a man in the White House who consciously and brazenly disregards his oath of office to protect and defend the Constitution.  That's why I say the greatest threat to our Constitution, our safety and our liberties, is internal.  Our president is an enemy of our Constitution, and, as such, he is a danger to our safety, our security and our personal freedoms.  Barack Obama is one of the most powerful presidents this nation has seen in generations.  He is powerful because he is supported by large majorities in Congress, but, more importantly, because he does not feel constrained by the rule of law.
Take Our Playbook, Please.  The time for words has passed.  President Obama and Eric Holder are placing American lives in danger and openly aiding and abetting America's enemies.  Obama and Holder want to give civilian trials to confessed 9/11 mass-murderer Kalid Sheikh Mohammed (KSM) and his accomplices.  Giving civilian trials to non-U.S. citizens and unlawful combatants not even protected by the Geneva Conventions is both unconstitutional and a violation of the oath of office to defend Americans against all enemies foreign and domestic.
Take Our Playbook, Please.  The time for words has passed.  President Obama and Eric Holder are placing American lives in danger and openly aiding and abetting America's enemies.  Obama and Holder want to give civilian trials to confessed 9/11 mass-murderer Kalid Sheikh Mohammed (KSM) and his accomplices.  Giving civilian trials to non-U.S. citizens and unlawful combatants not even protected by the Geneva Conventions is both unconstitutional and a violation of the oath of office to defend Americans against all enemies foreign and domestic.
Watergate Times Three.  The insane Solyndra loan, the LightSquared cronyism, and the Operation Fast and Furious gun-running debacle have all come into America's consciousness at the same time. … And the American people are not mesmerized enough by the star power of their president to avoid those answers and where they might lead.
The Solyndra Fraud.  The Solyndra debacle is not just Obama-style crony socialism as usual.  It is a criminal fraud.  That is the theory that would be guiding any competent prosecutor's office in the investigation of a scheme that cost victims — in this case, American taxpayers — a fortune.  Fraud against the United States is one of the most serious felony offenses in the federal penal law.  It is even more serious than another apparent Solyndra violation that has captured congressional attention:  the Obama administration's flouting of a statute designed to protect taxpayers.
Obama tears up the Constitution.  In his two years and nine months in office, President Obama has compiled a spectacular record of noncompliance with the Constitution.  Here are just some of the ways his administration has failed to execute the laws while using raw, unauthorized power…
Republican Fear Empowers a Corrupt Obama.  Corruption inside the Obama administration runs rampant.  The list of scandals grows longer by the moment, with a new one popping up at an ever-increasing rate.  However, the Republican leadership empowers the corruption by refusing to fight.  They fear Obama and are resigned to waiting for the buzzer instead of stopping the madness.
The Administration's Tangled Web.  [The Obama administration is] imploding under the weight of incompetent policies based on long-discredited progressive ideology and now a wave of scandals that involve gun-running, witness-tampering and political payoffs — and cover-ups of all of the above.
Attorney General in Mexico: 200 Murders Result of Operation Fast and Furious.  At least.  In a conference call this morning with Chairman of the House Oversight Committee Darrell Issa, reporters were told the Attorney General in Mexico has confirmed at least 200 murders south of the border happened as a result of Operation Fast and Furious.  "I would be remiss if I didn't mention, as the Attorney General in Mexico is so concerned, she's made the point that at least 200 Mexicans have been killed with these weapons and probably countless more," Issa said.
Obama Says He's Exempting States from Education Law Without Congressional Authorization.  President Barack Obama said Friday [9/23/2011] he is not going to wait any longer for Congress to change the No Child Left Behind education law, he is doing it on his own without congressional authorization.  "I've urged Congress for a while now, let's get a bipartisan effort, let's fix this," Obama said.  "Congress hasn't been able to do it.  So I will."
Obama's premeditated murder of America.  It is now crystal clear that Obama is pushing America into the certainty of a socialist state.  Pretending it isn't happening is not doing anything to stop the greatest nation ever paid for in blood and sacrifice from disappearing forever from a predator weary world.  It is patently clear that Obama is as much "your agent of change" as Raila Odinga, the despot he actively campaigned for one year before he ran for his own presidential election in 2008.
Race to impeach: Solyndra or Fast and Furious?  Two evolving scandals are neck to neck in the race to impeach President Obama.  While Fast and Furious — the ATF gun-running for Mexican drug lords — is the more imaginative of the two scandals, House Energy and Commerce Committee Chairman Fred Upton and Oversight and Investigations Subcommittee Chairman Cliff Stearns are following the money on Solyndra.
Obama's "Rose Mary Woods" moment:
Busted: DOE Altered Loan Program Bulletins.  It appears as though the Obama administration has been caught red-handed trying to cover up evidence in relation to the "green" loans programs that helped finance Solyndra.  CNBC reports that a number of press releases posted by the Department of Energy have been retroactively altered to remove the name a solar company thought by many to be the next "green" failure. … Naturally, the DOE blames 'outside contractors,' who "inadvertently" altered the news bulletins while updating the loans program website.
High Crimes.  A reasonable person, such as you or I, would probably say that involvement in acts that resulted in murder constitutes a high crime.  It would certainly become one, if the perpetrators went on to lie and cover up their involvement.  It has become quite clear that Attorney General Eric Holder, perhaps Secretary of State Hilary Clinton, and highly likely, their boss, Usurper Barak Hussein Obama-Soetoro, were involved in just such a crime and cover-up with Project Gunrunner and Fast and Furious.
President Obama's top 10 constitutional violations.  One of the biggest political changes that 2011 brought — in large part due to the tea parties and their effect on the 2010 election — is the centrality of the Constitution to our public discourse.  Lawmakers and citizens no longer consider simply whether a given bill or policy proposal is a good idea but whether it is constitutional.  "Where does the government get the power to do that?" is often critics' rallying cry.  That's a healthy development.
Issa Launches Probe of Alleged DEA Laundering Operation in Mexico.  Rep. Darrell Issa is launching a congressional investigation into the Drug Enforcement Administration following claims that the agency helped drug cartels launder money — an operation the lawmaker said bears striking resemblance to the failed "Fast and Furious" anti-gunrunning probe.  Both operations were run by agencies within the Justice Department.  Fast and Furious, which Issa and other lawmakers have been investigating all year, was run by the Bureau of Alcohol, Tobacco, Firearms and Explosives.
The Zenith of Civil Libertarian Anger at President Obama.  On the eve of 2012, President Obama is facing a backlash from civil libertarians that is more widespread and intense than anything he's yet seen.  He has previously been subject to complaints about his war on whistleblowers, the humanitarian and strategic costs of his drone war, the illegality of the war he waged in Libya, his use of the state secrets privilege, his defense of Bush-era warrantless wiretapping, and his assertion of the power to kill American citizens accused of terrorism.  But news that Obama plans to sign rather than veto a bill enshrining indefinite detention into U.S. law and failing to exempt American citizens is provoking unprecedented ire.
This is just a brief sample from…
President Barack Obama's Complete List of Historic Firsts.  Yes, he's historic, alright.
•   First President to preside over a cut to the credit rating of the United States Government
•   First President to violate the War Powers Act
•   First President to orchestrate the sale of murder weapons to Mexican Drug Cartels
•   First President to spend a trillion dollars on 'Shovel-Ready' jobs — and later admit there was no such thing as shovel-ready jobs
•   First President to abrogate bankruptcy law to turn over control of companies to his union supporters
•   First President to bypass Congress and implement the DREAM Act through executive fiat
Obama's Recess Appointments: An Impeachable Offense?  President Obama's nonrecess "recess appointments" can't be excused as over-the-top electioneering.  This president has crossed over from socialistic extremism into lawlessness and, perhaps, impeachability.
The Mask is Off.  Barack Obama is the most corrupt, power-mad president in this nation's illustrious history. … I have seen and experienced the worst that man can offer, I am not intimidated, and I will say without reservation that Barack Obama and his cronies have the same mindset in their tactical approach, philosophy, and lust for power that was extant in Benito Mussolini and the Fascists in the early days of their regime.  If the apologists for those in power in Washington want to vilify me for that comparison, so be it.  To the American people, it is far beyond time to wake up to who this man in the White House is and what his ambitions are.
Obama's inoperable Constitution.  Back in 1973, when the Nixon administration was under fire for Watergate, Press Secretary Ron Ziegler uttered an unforgettable response when caught in a lie during a news conference:  "This is the operative statement.  The other statements are now inoperable."  Well, the Obama administration just topped that by essentially declaring the U.S. Constitution "inoperable."  President Obama did not use that term when making an illegal recess appointment of Richard Cordray to the new post of consumer czar on Wednesday [1/4/2012], but he might as well have.
Obama's Fascist America in 10 Easy Steps.  [#10]  Suspend the rule of law.  What did Obama do when he made recess appointments while Congress was still in session?  What did he do with Fast and Furious?  What did he do when he refused to enforce the Defense of Marriage Act in court, or when Eric Holder refused to prosecute the New Black Panther Party for voter intimidation because they are black, or when he sent money to Kenya to promote the new, pro-abortion constitution in violation of U.S. law that does not allow American aid to be spent for that?  He also has stopped automatic deportation of illegal aliens, in violation of U.S. law.  What did he do when he violated the War Powers Act, involving America in a war in Libya without getting congressional approval?  What did he do with ObamaCare?
The Top 5 Reasons Obama Must Be Removed as Commander-in-Chief.  [#3] Giving Top-Secret Technology to Our Enemies:  Last week brought word that Obama is planning to share U.S. missile defense secrets with Russia, over the strenuous objections of security officials who say it could devastate the effectiveness of our entire defense system.
Obama's naked thuggery.  After all these years it took a great constitutional scholar who had spent a life cloistered in academia and street work to utterly rape our most cherished Constitution.  This business of bypassing the Senate to pick "recess" appointments to positions most Americans have never heard of may seem trivial.  It is anything but.  What Barack Obama has done has been to disembowel the U.S. Senate and shred the most carefully worded document in the history of civilized society.
Obama to Share Secrets with Russia.  While Michael McFaul's confirmation to be U.S. ambassador to Russia has now passed the Senate, the reason for the holdup remains:  The Obama administration appears intent to provide Russia with missile defense secrets.
Obama To Betray Missile Defense Secrets To Moscow.  Betraying our secrets is easy for a president who betrayed allies Poland and the Czech Republic to placate Moscow.  Poland was to host ground-based interceptors such as those we've deployed in California and Alaska, with missile-tracking radar deployed in the Czech Republic.  Obama pulled the plug when Moscow objected.
Business group leader says Obama's recess appointments create 'constitutional crisis'.  Mark Mix, President of the National Right to Work Legal Defense Foundation (NRWLDF), says the president's actions have created "a constitutional crisis."  Mix, and others critical of the appointments, say Obama has stepped beyond the powers granted to the executive branch.
The Transformational Tyrant.  In essence, Barack Obama has unconstitutionally made Mr. Cordray a king of what is probably an unconstitutional agency, with the power to regulate all aspects of the American economy.  The President also illegally diverted TARP funds, without the consent of Congress, toward bailing out political supporters — the UAW and the auto industry — while simultaneously reversing the order of creditors and ignoring a hundred years of bankruptcy law.  He dedicated much of his trillion dollar stimulus to crony-capitalist ventures like Solyndra and Light Squared, and transfer payments to the states to ensure that no backer of Barack would have to suffer through the economic downturn.
15 Questions The Mainstream Media Would Ask Barack Obama If He Were A Republican:  [#1]  Numerous Mexican citizens and an American citizen have been killed with weapons knowingly provided to criminals by our own government during Operation Fast and Furious.  If Eric Holder was aware that was going on, do you think he should step down as Attorney General?  Were you aware that was going on and if so, shouldn't you resign?
Georgia Ballot Challenge: Obama Walks On By.  President Obama has a habit of turning his back and walking away from those with whom he disagrees, as recently discovered by Arizona Governor Jan Brewer.  Professor John Lott, in an interview with Teri O'Brien, recalled similar experiences with Obama while at the University of Chicago.  Ms. O'Brien commented to Professor Lott:  "Gods don't debate.  They just issue decrees."  And apparently they also tend to place themselves above the law.
Obama Declares he is Above Georgia's Election Laws.  [Scroll down]  Since Obama and his attorney chose not to be present a defense and dispute the evidence that was presented, this can be taken as an admission that all of the evidence admitted were indeed facts and may not be disputed at a later time on appeal!  The irony of this course is that Obama is declaring that the court has no Jurisdiction in this matter and will appeal as a matter of law though these damning facts may very well stand!  It also gives the impression that he considers himself above the law — Georgia's.
Eligibility attorney: Obama needs impeaching.  One of the attorneys who argued before a Georgia judge today that Barack Obama is ineligible to have his name on the state's 2012 presidential ballot says the president's decision to snub the court system and ignore the hearing is a dangerous precedent that threatens the foundation of the United States.  "We have a president who has openly refused to comply with a legal order of the judicial branch," Van Irion told WND after today's hearing before Administrative Law Judge Michael Malihi concluded in Atlanta.
Ed Meese: House Should Pass Resolution Condemning Obama for Unconstitutional Act.  Former Attorney General Ed Meese says the U.S. House of Representatives should pass a resolution condemning President Barack Obama for acting unconstitutionally in appointing a director to the Consumer Financial Protection Bureau and three members to the National Labor Relations Board without Senate confirmation and when Congress was still in session.  "I wish it would also be the Senate," Meese told CNSNews.com, "but that probably wouldn't happen because of the fact that [it is] in Democrat hands.
Obama Creates Unconstitutional Monster at Fed.  Did President Barack Obama's appointment of Richard Cordray to be director of the Consumer Financial Protection Bureau without a Senate confirmation vote violate the Constitution?  The answer is plainly yes.
His Abominations Accelerate.  [Scroll down]  Killing the private college-loan industry.  Hobbling private for-profit colleges.  Illegally seizing auto companies.  Whoring for Freddie Mac and Fannie Mae.  Turning public policy over to thuggish union bosses and destroying jobs in South Carolina to do so.  Turning the Justice Department into a thoroughly corrupt, lawless, racialist, hyper-politicized, gun-running, vote-fraud-enabling, bullying arm of the left wing of the Democratic Party.  Regulating the life out of almost every aspect of the economy.  Buying political support by funneling taxpayer money to failing private alternative-energy companies. … Lying about so many things that one loses count.  Roiling racial tensions every chance he gets.
Calls for impeachment.  [Scroll down]  The President's unconstitutional recess appointments of Richard Cordray to be head of the Consumer Financial Protection Bureau (CFPB) and three new members of the National Labor Relations Board (NLRB) may be impeachable offenses, according to some constitutional experts.  There are multiple offenses against the Constitution in this tyrannical and undemocratic act.  Article I, Section 5 allows the Senate to adjourn for more than three days only when it has the consent of the House.  The House refuses to allow the Senate to go into an extended recess.
Obama's Act of Tyranny.  The edict President Barack Obama passed down today [2/10/2012] — that every health-care plan in America must pay for sterilizations and all FDA-approved contraceptives, including those that cause abortions — is an act of tyranny.
Americans — Including Catholics — Will Still Be Forced to Buy Coverage for Sterilization, Contraception, Abortifacients.  President Barack Obama announced today [2/10/2012] that "religious organizations" such as charities and hospitals will not be forced by the federal government to directly pay insurance premiums that cover sterilization, contraception and abortifacients but that their insurance providers must nonetheless provide those services free of charge to women insured by those organizations. 
Barack H. Obama is an elected official, not a king.  He has no authority to require private businesses to give away products or services at no cost to the recipient.
Obama goes Henry VIII on the church.  In essence, President Obama has embarked on the same usurpation of church authority as Henry VIII:  as his Friday morning faux-compromise confirms, the continued existence of a "faith-based institution" depends on submission to the doctrinal supremacy of the state.  "We will soon learn," wrote Dr. Albert Mohler of the Southern Baptist Theological Seminary, "just how much faith is left in faith-based institutions."
Barack Obama: In the Footsteps of Twentieth Century Despots.  Nothing reveals Obama's dictatorial mindset more than his relationship with Congress.  His recent actions in unilaterally making appointments that are subject to Senate approval while the Senate is still in session are blatantly unconstitutional and done to marginalize Congress.  His appointment of innumerable "czars" is a means of bypassing Congress and their oversight of the federal Cabinet departments.  His Department of Justice has been transformed into an advocacy group to enforce the left-wing radical version of social justice while refusing to be accountable to Congress.  Obama has resorted to utilizing executive orders and volumes of regulations from various agencies under his command in order to put in place his radical policies and sidestep Congress and thus the will of the people.
It's Not Personal: Why We Resist Obama's Power Grabs.  We revolt, at least inwardly…
•   When he makes recess appointments (to the National Labor Relations Board and to the new Consumer Financial Protection Bureau) while the Senate is not in recess;
•   When he does through bureaucratic regulation what he cannot accomplish legally through persuasion of the people's legislature;
•   When he stands before the Congress, the nation, and the Supreme Court, as he did during a State of the Union address, and publicly rebukes the Court for a decision he didn't like;
•   When he initiates overseas military adventures (i.e., Libya) without congressional approval;
•   When he campaigns around the country saying "we can't wait" for Congress to act, and instructs his cabinet to do everything they can without Congress, because he wants to spend more borrowed money on more social experiments, despite the demonstrated failure of his previous experiments.
•   When he erects "a Multitude of new Offices, and [sends] hither Swarms of Officers to harass our People, and eat out their Substance."
(That last one actually referred to King George III … at least, originally.)
Mark Levin recommends 'articles of impeachment' for HHS Secretary Sebelius.  On his Monday [2/13/2012] show, radio talk show host Mark Levin, author of "Ameritopia: The Unmaking of America," said "what would happen if we were living in a functioning constitutional republic is articles of impeachment would be drawn up against the secretary of [Health and Human Services, Kathleen Sebelius]" over a slew of charges, most recently the contraception mandate for Catholic institutions.
Obama's recess appointments are an abuse of power.  While the Constitution requires high-level officials to be confirmed by the Senate, an arcane provision in Article II states that a president can make recess appointments when Congress is not in session.  However, what if Congress did not think it was recessed and a president handed out appointments over the equivalent of a long weekend?  That is the controversy brewing in Congress, which is looking into four appointments President Obama made in January.
Can Obama Order Grocers to Give Away Bread?  Last August, Health and Human Services Secretary Kathleen Sebelius issued a proposed regulation that would force virtually all health care plans to cover sterilizations and all Food and Drug Administration-approved contraceptives, including those that cause abortion.  Because Obamacare mandates that all Americans must purchase health insurance, this regulation would require Catholics — whose church teaches that sterilization, artificial contraception and abortion are wrong — to act against the teachings of their faith.  Obama was unambiguously attacking the First Amendment right to the free exercise of religion.
Prof. Dershowitz calls Media Matters 'Stalinist'.  When big media voices tell us that the US Constitution is outdated, that democracy can't work, that socialist Europe represents the future, that America is evil, while the US President bows down to the King of Saudi Arabia and the President of China … there's a message.  When the President invades Libya without even notifying Congress, as required by law and the US Constitution, there's a message.  When the US Attorney General violates the laws passed by Congress, not just once but repeatedly, and laughs at Congressional oversight, there's a message.  Alan Dershowitz just gave a name to that message.
We Dare Call It Treason.  Close on the heels of threatening to eviscerate America's defense budget and cripple our ability to defend ourselves on more than one front, Barrack Hussein Obama-Soetoro is now pushing for cutting our nuclear weapons force by up to 80 percent, to a level less than that of his idols, the Communist Chinese.  We have come to expect the leftist Democrat Party to want defense cuts, but the proposals being thrust upon us by the squatter in the White House will leave us wide open to devastating attack from nearly every quarter.
We Dare Call It Treason.  Raised by Muslims and communists, on reaching young adulthood Obama-Soetoro, by his own self-aggrandizing admission, made conscious choices to closely associate himself with radical Marxists and black supremacists.  These were, and are, people who ardently believe in the violent overthrow of our government and the destruction of America as a free, sovereign, capitalist nation.  Are we now to believe that disarming America is not part of furthering this agenda?
From Obama, What Next?  With his "We can't wait" campaign, Obama has declared that he will ignore the US Constitution and Congress when they don't let him have his way.  In December, 2011, Obama appointed Richard Cordray to direct the Consumer Financial Protection Bureau.  Also in December, 2011, he appointed three members to the National Labor Relations Board.  They were all "recess appointments."  The only problem was that Congress had not recessed.  This attempt to circumvent the legislative branch is a violation of Obama's oath of office to uphold and defend the US Constitution.
All Hail Obama.  The willingness of the White House to exceed the Constitutional powers of the President and assert authority beyond that directed in federal statutes is starting to show up more frequently. … This brazen man who has successfully bluffed his way to the White House despite the Communist and otherwise anti-American people who have tutored and assisted him on his way, is apparently feeling so sure of himself that he is already acting beyond his constitutional obligation to "faithfully execute the laws", even before his reelection.
President Barack Obama's Complete List of Historic Firsts:
•   First President to Demand a Company Hand Over $20 Billion to One of His Political Appointees
•   First President to Encourage Racial Discrimination and Intimidation at Polling Places
•   First President to Have a Law Signed By an 'Auto-pen' Without Being "Present"
•   First President to Arbitrarily Declare an Existing Law Unconstitutional and Refuse to Enforce It
•   First President to Tell a Major Manufacturing Company In Which State They Are Allowed to Locate a Factory
•   First President to refuse to comply with a House Oversight Committee subpoena
•   First President to Withdraw an Existing Coal Permit That Had Been Properly Issued Years Ago
•   First President to Fire an Inspector General of Americorps for Catching One of His Friends in a Corruption Case
•   First President to Propose an Executive Order Demanding Companies Disclose Their Political Contributions to Bid on Government Contracts
•   First President to allow Mexican police to conduct law enforcement activities on American soil
•   First President to Golf 90 or More Times in His First Three Years in Office
WH ignores House subpoena for Solyndra documents.  President Obama and his West Wing aides ignored a subpoena of documents pertaining to the Solyndra loan guarantee even after congressional investigators met with White House officials to negotiate the scope of the subpoena, according to the House Energy and Commerce Committee.
White House misses Solyndra document deadline.  The Most Transparent Administration In History continued its practice of ignoring inconvenient subpoenas, by missing a Monday [2/20/2012] deadline to hand over documents related to the Solyndra "green energy" boondoggle.
Why wasn't Obama slapped with contempt of court?  Already I can feel the chill hiss of "birther" at the mere mention of these events, all because I haven't included the mob-requisite catcalls that are "supposed" to go along with such accounts.  But there's nothing to mock here.  Last month, after Administrative Law Judge Michael Malihi denied motions by President Obama's lawyer Michael Jablonski both to dismiss proceedings against the president and to quash a subpoena, three attorneys made history.  For the first time, attorneys were permitted to enter evidence into the court record challenging Barack Obama's constitutional eligibility to be president.
A Forced Marriage of Church and State.  [Scroll down]  Formerly restrained in some measure by presidents who had at least a minimal understanding of and respect for the Constitution, the full use of the bureaucracy for nefarious purposes only awaited a president who regarded the Constitution as a relic of the past and an obstacle to his goals for fundamentally transforming America.  Such a man has risen to the presidency; and such a man has made it clear he regards the Church as presently constituted and constitutionally protected as unilaterally subservient to the almighty state.
Here Comes Obama's 3 AM Phone Call.  On or about April 1 of 2012, that 3 AM phone call will reach the White House.  We know what it will be — which is itself a sign of stunning incompetence in this White House.  None of this information should ever be public.  Ever.  But this administration has chosen its Secretary of Defense to publicly leak the most closely guarded secret of Israel's back-against-the-wall defense against Iranian nuclear weapons.  Such public leaks amount to near treason in time of war.  Imagine if someone leaked General Eisenhower's plans for the D-Day invasion in June of 1944.
White House doormat.  When Barack Obama became president of the United States, he swore an oath to "preserve, protect and defend our Constitution."  Unfortunately, evidence has accumulated ever since that he feels no obligation to honor his commitment.
Oust Obama.  The Obama administration believes it is above the law.  It now openly claims that President Obama can go to war without congressional authorization.  This is a flagrant — and dangerous — violation of the Constitution.  It is a naked abuse of power.  It begs the question:  Is this an impeachable offense?  A congressional resolution has been introduced to warn that such high crimes and misdemeanors will trigger impeachment proceedings.  It's about time.
Obama Steps Up Confrontation.  [Scroll down]  Democrats attached to the bill a major overhaul of student-lending laws, which eliminated a federal subsidy for private tuition lenders, federalized most student loans and plowed the savings into expanded federal higher education aid.  Republicans say the bill will destroy the private student-lending market.  Mr. Alexander, the Tennessee Republican, called the student-loan move "really brazen" and "the most underreported, biggest Washington takeover in history."
Why Obama's Birth Certificate Matters, Especially Now.  You don't present a forged a document for no reason. … We're not talking here about some kid who forged an ID so he could drink at 18 in a bar.  This is the most powerful man in the world, who, it appears, is passing off a forgery for some mysterious — or not so mysterious — reason.  This mystery needs to be solved.
Birthermania!  Now that Sheriff Joe Arpaio has released his ten-page report on President Obama's purported birth certificate, we are witnessing the predicted response of the establishment national news media:  yawns, sighs, and laughter — but little reporting.  After the six-month investigation by a team of forensic experts, Joe Arpaio said there is "probable cause" to believe that forgery has been committed.  Those are fairly strong words.  Probable cause is the legal standard for arrest and forced production of documents.
Calling out self-censorship on the right.  An insidious form of self-censorship has gripped not only the mainstream media but most of the conservative media as well.  All Americans who believe in the quest for the truth should be concerned that a rigid taboo is being enforced to prevent the discussion of serious evidence that the President of the United States has presented documents that were constructed on a computer as his genuine birth certificate. … There have been far too many alarming signs that the official story of Barrack Obama is a sham.
Former Navy Seal: Obama Using "Classic Soviet Style Tactics".  It's been outrage after outrage after outrage for the past three years, as Obama's Chicago machine has usurped congressional and constitutional authority and ineffectual Republicans have done little to stop it.
Why Obama's open mic slip could seriously hurt his reelection hopes.  By telling Mr. Medvedev and his patron, the once-and-future Russian President Vladimir Putin, that he will have "flexibility" after the American election on Russian demands opposing a US missile defense for Europe, Mr. Obama is in effect saying he is ready to do something the Russians will like but that the American people won't.  Mr. Obama has shown Russian leaders, and now the entire world, weakness.
Bolton: Obama's Open-Mic Comments to Medvedev a 'Fire Bell in the Night'.  As usual, an excellent and important perspective from Ambassador Bolton on Obama's open-mic debacle with Medvedev.
Obama Is Making the Case For His Own Impeachment.  Obama is no longer fit for the job.  I don't say this lightly.  I don't say it with glee or joy.  And I don't say it with malice.  But rather with recognition that the Office of the President must be protected.  And the citizens of the United States must protect themselves from a president who is either incapable or unwilling to fulfill his responsibilities to the American people and respect the Constitutionally proscribed limitations on his powers.  Obama's pronouncement about the Supreme Court was so disingenuous and divisive as alone to warrant impeachment proceedings.
Attorneys General Join Forces to Call Into Account Illegal Obama Administration Violations.  Whether it is through the EPA, NLRB, Office of Surface Mining, FCC or other entities, the Obama Administration has aggressively used administrative agencies to implement policy objectives that cannot gain congressional approval and are outside of the law.
Is Barack Obama guilty of TREASON?  I remember hearing on the various news channels a couple of years ago about small dusty Mexican towns on the border having "human heads" stuck on poles in the middle of the town square.  I am sure if you rifle through your memory banks, you will remember these strange stories as well.  Those stories prompted me to think "I don't ever remember Mexicans beheading people".  Now that little tidbit makes sense.  It was Hezbollah doing the head lopping!  This is how these people send messages.  "If you do not behave, we saw your head off".  The bottom line to all this "The President of the United States knew all of this gruesome information"!
Barack Obama's Bloodiest Scandal.  Operation Fast and Furious is the deadliest and most sinister scandal in American history.  A scandal so big, it's worse than Iran-Contra and makes Watergate look like a high school prank gone wrong.
Obama administration rebuffs subpoena.  The Obama administration has snubbed a congressional subpoena in the investigation of a White House "drafting error" that suggested certain experts supported their decision to temporarily ban oil drilling in the Gulf of Mexico.  The Interior Department says it will not turnover all of the requested documents and accused the House Resources Committee conducting oversight of the incident of violating the administration's good faith effort to work with the panel.
Republicans Sue Obama Over Recess Appointments.  Today [4/17/2012], Senate Republicans hired Miguel Estrada, the 2002 judicial nominee for the DC Circuit Court of Appeals filibustered by Senate Democrats, to press a lawsuit against the Obama administration.  The lawsuit itself is based on President Obama's non-recess "recess appointment" of political allies to the National Labor Relations Board…
The Sea Change: Obama's Confirmed Forgeries Are Not Going Away.  With the help of his friends in the consensus media, Mr. Obama had been afforded the luxury of effectively remaining silent for years.  Obama was able to sit back as a third-party onlooker as the media attacked, maligned, and ignored those who raised valid questions.  But the recent findings are similar to the events of a trial in which the burden of proof shifts from one party to the other.  In our context, the burden of proof was absurdly placed on the people, but finally it has shifted to Obama.
Shift on executive power lets Obama bypass rivals.  As a senator and presidential candidate, he had criticized George W. Bush for flouting the role of Congress.  And during his first two years in the White House, when Democrats controlled Congress, Mr. Obama largely worked through the legislative process to achieve his domestic policy goals.  But increasingly in recent months, the administration has been seeking ways to act without Congress.
Actual Criminal Complaint Naming Obama in Commission of Treason.  We are arrived at a point in our Nation's life where Barack Hussein Obama and Obama's criminal assistants threaten the life of our Nation to the point of death.  Obama and his criminal cohorts install an unconstitutional, rival and competing government that replaces our United States Constitution.
Where Are the Rolling Heads from NOAA?  NOAA law enforcement collected close to $100,000,000 in fines and seized goods from fishermen over the past several years.  The Department of Commerce IG investigated and found that only about $60M could be accounted for, while some $40M is just plain gone.  This is not taxpayer money, but money taken in huge chunks from fishermen for infractions, some very minor.  Claims by the fishermen of coercion and extortion were validated by the IG.
Vigilante President, Liberal Fascist.  I have come to the terrible realization, that we have a vigilante president in the White House, surrounded and supported by a cast of vigilantes.  Barack Obama openly decries the system once it stops working his way, and insists he will find ways to work around it for that very reason. [...] He is using laws for purposes never intended for them, in order to push through an agenda which the elected representatives rejected (the FCC's activism and EPA's "global warming" agenda, for example); he subverts the rule of law to the benefit of cronies, from Solyndra to Chrysler; he ignores the Constitution and precedent; and he decides not to enforce laws he is sworn to uphold (New Black Panther case, DOMA).
A New Declaration of Independence.  Without any in-depth research or vetting about his background, Barack Hussein Obama was elected the 44th president of the United States. [...] Evidence continues to suggest that Barack Obama's long-form birth certificate is, indeed, a forgery.  This would make his presidential eligibility suspect.  Thus, the American people are at a critical watershed moment in our history.
A New Declaration of Independence.  [Scroll down]  Echoing the despot of old, Mr. Obama has "called together legislative bodies" in such manner that makes the action less transparent for the "sole purpose of fatiguing them into compliance with his measures."  So while he calls for creating easy-to-read, shorter bills, Mr. Obama creates monstrosities of several thousand pages.  He is famous for his Friday-night document dumps, pushing the legislation through late on Friday evening when Congress has retired.  Before ObamaCare was passed, Mr. Obama promised C-SPAN complete transparency and public coverage so that the American public could study the law.  That never happened.
Medicare slush fund shows Obama's abuse of power.  President Obama regularly misuses executive power, often nakedly in the service of his political interests.
Obama Meets His Nemesis.  [Scroll down]  This is the difference between Obama and previous administrations — Richard M. Nixon and Ronald Reagan worked like stevedores to overcome Watergate and Iran Contra, Nixon with no success while Reagan at last put it behind him.  But Obama, exactly like his appointees, doesn't think he has to make any defense at all.  He truly believes that he can't be touched.  (The other difference between these scandals and earlier ones is that hundreds have died as a result of this administration's activities.) [...] By the time it's all over, the election may well be the least of Obama's worries.
The President's Private War.  Did you know that the United States government is using drones to kill innocent people in Pakistan?  Did you know that the Pakistani government has asked President Obama to stop it and he won't?  Did you know that Pakistan is a sovereign country that has nuclear weapons and is an American ally?  Last week, the Obama administration not only acknowledged the use of the drones; it also revealed that it has plans to increase the frequency and ferocity of the attacks.
Obama Is a Big-Time Law Violator.  Where is the Mainstream Media's coverage of the shocking "Memo" issued by nine State Attorneys General (AG) detailing 21 specific violations of law by the Obama Administration?  That's too many violations to list in this column, but here are some of the more outrageous examples of what the AGs call "violations of law" by "an increasingly overreaching federal government."  One consistent aspect of these actions is that the Obama Administration is aggressively using administrative agencies to enforce policy objectives that are outside the law and would not be approved by Congress.  Not even by Harry Reid's Democratic Senate.
5 Ways Obama Is A Dictator.  When power is placed in the hands of a usurper like Barack Obama, all thought of accepting authority from the other branches of government as delegated by the Constitution is rejected.  Three years in office, we have seen Obama use the various agencies of the executive branch to break countless federal statutes, rob states of their legislative prerogatives, and flout the authority of Congress and the courts.
Obama can't be trusted with military secrets.
Loose lips and the Obama national security ship.  The level of detail spilling out through media reports about crucial national security operations is raising the question of whether President Barack Obama's administration can keep a secret — or in some cases even wants to.
Obama Administration Argues No Warrant Required for GPS Tracking of Citizens.  The federal government informed an appeals court on Thursday [5/31/2012] that it has the right and the power to place GPS tracking devices on the privately owned vehicles of citizens without obtaining a warrant.  This is in open rebellion to a Supreme Court decision from January that held that such warrantless installation of tracking devices on cars was unconstitutional.
How much longer can Obama and Holder protect each other?  If this were just the first such instance of a failure in President Obama's campaign promise to 'have the most transparent administration in history,' perhaps negative sentiments, particularly bi-partisan, would not run so deep.  But, it is just the next, in a long line of many political scandals that have plagued the Obama Administration almost from day one, including Solyndra Solar and Operation Fast and Furious, both of which appear to suffer from "stonewalling" by the government agencies involved.
Obama's move on immigration is an unconstitutional disaster for the unemployed.  President Obama thwarted the will of Congress and shunned the 20 million under- and unemployed Americans by announcing he will grant work permits to 2 million to 3 million illegal workers.  This unconstitutional fiat ignores the rule of law and bypasses Congress, which on three occasions rejected DREAM Act amnesties in part to protect unemployed workers born here or who came here legally.
McConnell: 'Radical, Dangerous' Obama Admin Seeks to 'Shut Up' Opponents.  [Scroll down]  McConnell is incensed over the administration's use of government and nongovernmental resources to target its political enemies.  "They've used the IRS, the FEC, the FCC, the SEC, their allies in the Obama campaign to go after people who disagree with them.  The Obama campaign has rifled through the divorce records of a major donor to an opposing super PAC.  The government itself is intimidating donors.  Appointees at the IRS and other agencies are pursuing similar efforts to ferret out who is contributing to outside groups critical of the administration so that they can scare them off the playing field and shut them up."
Obama decrees some illegals are more illegal than others.  This kind of pandering to Hispanics could win him the election.  In states like Florida, Virginia, Colorado, New Mexico, and Nevada, where Hispanics are a growing part of the electorate, this sort of action could tip the balance in his favor — especially since all of those states are expected to be close.  I'm pretty sure Congress is going to challenge his ability to declare one set of illegals not illegal, and keep the rest of illegals, illegal.  Perhaps Obama has mistaken that cardboard crown he got from his last trip to Burger King for the real thing.  He sure is acting like a king, isn't he?
Executive Overreach.  President Obama's claim that he can refuse to deport 800,000 aliens here in the country illegally illustrates the unprecedented stretching of the Constitution and the rule of law. [...] President Obama cannot refuse to carry out a congressional statute simply because he thinks it advances the wrong policy.  To do so violates the very core of his constitutional duties.
If We Took the Constitution Seriously, Obama Would Be Impeached.  If the citizens of this Republic still took the Constitution seriously, Obama would be impeached for his decision to unilaterally grant amnesty to certain illegal aliens.  Article 1, Sec. 8 of the Constitution, which enumerates the power of Congress, states that "Congress shall have the Power To… establish an [sic] uniform Rule of Naturalization."  Congress has passed numerous laws pertaining to immigration and naturalization, including laws requiring the deportation of illegals.  The role of the President, according to Article II, Sec. 3, is to "take Care that the Laws be faithfully executed."  Obama's refusal to execute Congress's immigration laws (or, for that matter, Congress's Defense of Marriage Act) is an impeachable offense.
On immigration, Obama wanted to bypass Congress.  With his announcement that he will, in effect, unilaterally enact a key feature of long-debated immigration reform, President Obama is doing something he has always wished to do:  Get around a Congress that doesn't see the issue his way.
Obama Lurching Toward Tyranny.  Obama's government is the biggest violator of law in our history.  His very methods of governing, which include bypassing Congress's constitutional authority to make law, actually show contempt for the Constitution and the American rule of law.  By executive orders, Mr. Obama both violates the law against his own American-citizen "enemies," such as Catholic institutions when it comes to abortion and birth control, and grants unlawful privileges for his supporters or potential supporters, such as his immigration amnesty order this week.
An imperial presidency, on steroids.  The president's Friday edict on immigrants in the country illegally but brought here as children by others over the past decade and a half; his command regarding Catholic institutions and the morning-after pill; and the wave of his hand on the Defense of Marriage Act — all of these acts and many more claim for the president a breathtaking unilateral authority over matters quite obviously within the shared control of the Congress and the executive.  There is no limiting principle curbing the president's unilateralism once exercised and unrebuked by Congress or the courts.
The Obama Doctrine and the Rule of Law.  Remember the good old days when Democrats cared about the rule of law?  Or pretended to, anyway.  That was during the Bush administration, even though most if not all of the policies that prompted "rule of law" complaints from the left were in fact supported by good legal authority.  That was then, and this is now:  the Age of Obama is, among its many other faults, an age of lawlessness.
Obama's Administrative Dream Act Myths.  The Obama administration's latest attempt at amnesty is a lawless act and an end run around American citizens and their representatives in Congress.  It is also a hostile act toward the millions of legal residents looking for jobs.  Legalizing illegal aliens is unpopular and this plan may well drive voters away from the Obama campaign.
Obama's Lawless Presidency Close To Totalitarianism.  The chief executive who swore to faithfully execute the nation's laws picks those he'll ignore and makes up others through regulation and executive order.  He sees no need for a Congress or Constitution.
Prince of Handouts.  Quite a lot has been said about what Obama's instant amnesty scheme means in the purely procedural sense — that it's illegal and unconstitutional on its face, all of which is undeniable.  What we haven't heard discussed is what it's actually for.  It's being taken for granted that it's of a piece with general Democratic corruption at the voting booth — ACORN, Black Panthers swinging nightsticks, phantom voters, Eric Holder defending the voting rights of the deceased, and so forth.  But in fact, it's much more straightforward than that.  Obama's amnesty ukase is simply Chicago writ large.
America's First Anarchist President.  Obama's executive order giving amnesty to some people illegally in the United States is not a lawful exercise of Executive discretion.  It is not an interpretation of the law, nor is it under-enforcement of law in a manner contemplated by, or consistent with, the Constitution.  Obama's order is legislative in nature, and therefore usurps congressional authority.  It unilaterally and unlawfully grants the privilege of being in the United States to a class of people who by law may not be in the United States. [...] Obama's order is a statement of intent to allow violations of the law.  It is an act of anarchism, albeit a top-down, unlawful form of anarchism.
Obama: Against the Law.  Last Friday, the president announced that he would not enforce the law requiring deportation of illegal aliens.  In short, Obama has thus decided that politics trumps the rule of law.  Of course, this is nothing new for this president, but the blatant manner in which it was announced, purely for political gain, is deplorable.  Obama's attempt to legislate from the Oval Office betrays a colossal arrogance.  The frightening thing is that he actually believes he can govern in opposition to the wishes of the American people and their representatives in Congress.
The Obama Outrages: Government as Black Swan.  In a recent Wall Street Journal column, Kimberly Strassel writes that Al Armendariz, the EPA procurator who was going to crucify oil and gas companies just to let them know who's boss, is hardly the exception to the rule within the Obama administration but rather exactly the kind of federal enforcer the president wants.  In other words, Obama considers him a feature — not a bug — in his plan to totally transform America.  But if she's correct, that would mean that Obama-style government could no longer be considered a "black swan" machine.  Why?  Because these disruptions are planned, not random.
Obamarule and the killing of the Constitution of the United States.  If last Friday's dictatorial action by President Obama is allowed to stand, historians may someday look back on June 15, 2012 as the day the Constitution died. [...] In declaring that his administration will not deport those who came to this country illegally at a young age, President Obama has suspended the law for approximately 800,000 young people.  In truth, no one knows how many people will be covered by Obamarule.  Will more come into the United States while the regulations are being written?  Which bureaucrat decided in secret it covered 800,000 people and what was their analysis based on?  Why people 16 and under?  Why not 15?  Why not 17?  Why was serving less than one year in jail okay?  Why not zero jail time?  Why not 18 months?
Can Obama rewrite federal law?  Is the Constitution merely a guideline to be consulted by those it purports to regulate, or is it really the supreme law of the land? [...] There is no intellectually honest argument to be made that the president can pick and choose which laws to enforce based on his personal preferences.  And it is a profound violation of the Constitution for the president to engage in rewriting the laws.  That's what he has done here — he has rewritten federal law.
An Arrogant and Lawless Cover-Up.  Few principles are more important to our constitutional scheme than the separation of powers, which is precisely why President Obama's bogus assertion of executive privilege to thwart Congress' investigation into Fast and Furious is so inexcusable.
7 Reasons Obama's Amnesty For Under 30 Illegals Is Terrible Policy.  [#1] It's illegal:  Since there are currently no work permits for illegal aliens, handing them out would require a change in the existing law.  If this were a dictatorship like North Korea or Cuba, Dear Leader Barack Obama could simply issue a decree and change the law.  Here in America we're a republic which means that he unquestionably, uncontroversially cannot issue work permits for illegal aliens without a bill passing through Congress.  His attempt to do so may seem like a small matter to some people, but it sets an extremely dangerous precedent that undermines democracy in our country.
Obama's socialist designs.  Last week, the administration announced that it will stop deporting young illegal aliens.  The policy shift affects as many as 800,000 illegal immigrants.  Mr. Obama's order lifts the fear of deportation.  It also grants them work permits.  Mr. Obama has waved his magic wand and converted the immigration status of countless aliens, flipping them from illegal to legal residents. [...] Yet, the order is more than crass partisan politics.  It is an ominous usurpation of centralized power — a naked attempt to entrench an imperial presidency.  Mr. Obama lacks the legal authority to grant amnesty.  He is not a monarch or tyrant with unlimited discretionary authority.  Rather, he is confined by our constitutional system of the separation of powers and checks and balances.
Obama's socialist designs.  Last week, the administration announced that it will stop deporting young illegal aliens.  The policy shift affects as many as 800,000 illegal immigrants.  Mr. Obama's order lifts the fear of deportation.  It also grants them work permits.  Mr. Obama has waved his magic wand and converted the immigration status of countless aliens, flipping them from illegal to legal residents. [...] Yet, the order is more than crass partisan politics.  It is an ominous usurpation of centralized power — a naked attempt to entrench an imperial presidency.  Mr. Obama lacks the legal authority to grant amnesty.  He is not a monarch or tyrant with unlimited discretionary authority.  Rather, he is confined by our constitutional system of the separation of powers and checks and balances.
Have We Reached the New Tipping Point?  Under George III, the accumulation of abuses hit a tipping point that moved Americans from the "suffer [evil], while evils are sufferable" to viewing those abuses as intolerable.  Under Barack Obama, and those of a similar mind in subordinate positions, such as Eric Holder, Michael Bloomberg, and others, the abuses which we have suffered have accumulated to the same point we were at in 1776.  They can no longer be tolerated.  We can not afford, as a nation, a continuance of such violations of the underpinning of our democratic republic, the Constitution.
The Tyrant in the White House.  Obama's action seems to me to be an instance in which the highest elected official in the land has unilaterally decided to stop enforcing a particular law.  Columnist Charles Krauthammer, the second smartest person in America (one slot behind Thomas Sowell), uses the term "naked lawlessness."  Sounds about right to me.  When did the president accrue the power to pick and choose which laws he wishes to enforce?  Consider the precedent this may set.
Lew won't confirm or deny whether President Barack Obama involved in Fast and Furious cover up.  White House chief of staff Jack Lew on Sunday [7/1/2012] would neither confirm nor deny whether President Barack Obama himself is involved in the Operation Fast and Furious cover-up.  Appearing on CNN's State of the Union with Candy Crowley, Lew refused to answer when asked if Fast and Furious documents now protected by Obama's executive order detail consultations with the president himself.
No 'plumber' can stop the gusher of hypocrisy in the Obama White House.  In political peril because of its arrogance and incompetence, the Obama administration has lost its moral bearings in a bid to stay in power.  Laws are ignored, and new rules created simply for the convenience of the campaign.  The president's mad dash for cash has turned Air Force One into a shabby shuttle, its grand symbolism reduced to getaway-car status.
Holder's Contempt: Who Owns the Government?  President Obama has raised the stakes.  This not just a political dust-up; not merely a healthy test of strength between two co-equal branches of government.  The rule of law is being challenged by Mr. Holder and the President.
Obama's Problem Obeying the Law.  There is ample evidence that Barack Obama, and people under his supervision, committed at least one felony — specifically, illegal gambling across state lines — to fund his 2008 election campaign.  Congress, meanwhile, found Obama's attorney general, Eric Holder, in contempt for refusal to testify about Operation Fast and Furious.  Orchestration of straw purchases of firearms, one of which resulted in the death of a law enforcement officer, could easily be another felony.
Strassel: Obama's Imperial Presidency.  [Scroll down]  Mr. Obama proposes, Congress refuses, he does it anyway.  For example, Congress refused to pass Mr. Obama's Dream Act, which would provide a path to citizenship for some not here legally.  So Mr. Obama passed it himself with an executive order that directs officers to no longer deport certain illegal immigrants.  This may be good or humane policy, yet there is no reading of "prosecutorial discretion" that allows for blanket immunity for entire classes of offenders.
Is President Obama Intentionally 'Destroying' America?  [Scroll down]  On the financial front alone, Obama is single-handedly preventing entitlement and discretionary spending reform, without which — as I've said dozens of times — America will face financial catastrophe.  There is less than zero question that he is doing that on purpose, regardless of whether you think he is otherwise intentionally damaging America.  There is no question that he is acting as though he has a vendetta against the oil, coal, natural gas and nuclear power industries.  There is also little question that he is intentionally dividing Americans on the basis of race, economic class, gender, sexual orientation and, sometimes, religion.  You don't have to be a conspiracy theorist to recognize the damage Obama is doing to the republic, and we haven't even touched on his unconstitutional and lawless usurpations of authority.
GR8, Obama Is Texting Me.  Friday, July 6 was the day many Americans were on an extended 4th of July vacation and paying more attention to barbecuing and lighting fireworks than the news.  Obama seized the day to bypass Congress and release an executive order whereby he effectively gave himself control over the infrastructure that supports your smartphone, internet, radio, TV and satellite dish.  This infrastructure includes "…wireline, wireless, satellite, cable, and broadcasting, and… transport networks that support the Internet…" according to the website for the Department of Homeland Security's National Communications Systems.  The President argues that that he "must have the ability to communicate at all times and under all circumstances" for the sake of "national security and emergency preparedness (NS/EP)."  There's one teensy weensy problem with this executive order:  It's unconstitutional.
Arpaio probe could dwarf Watergate.  America may be facing a constitutional crisis.  Sheriff Joe Arpaio of Maricopa County, Ariz., has made a startling declaration:  President Obama's birth certificate is fraudulent.  If true — and I stress if — then this scandal dwarfs Watergate.  In fact, it would be the greatest political scandal in U.S. history.  Recently, Sheriff Arpaio held a news conference.  He said that his team of independent investigators — composed of former law enforcement officials and reporters — have for months meticulously examined the computer-generated birth certificate that Mr. Obama revealed to the public in April 2011.  Their stunning conclusion:  The document is a forgery. [...] At best, Mr. Obama is a shameless liar.  At worst, he is a foreign usurper.
Power grab: How Obama bends the rule of law.  President Obama once said he couldn't "just change the laws unilaterally."  He doesn't act like it.  He has sidestepped Congress repeatedly, most notably with his edict to selectively enforce federal immigration laws.  Phrases like "we can't wait" are indicative of a man whose fidelity to the Constitution disappears when given a chance to expand the administrative state.
More Evidence Obama Literally Not Doing the Job of President.  Every President prior to Barack Obama understood that the job entailed things like holding press conferences, meeting with members of Congress to compromise on budget issues, and learning the latest news about economic and international developments from the nation's best experts.  These things matter, because the President of the United States must be intellectually prepared to make important decisions about the future of our country.  But President Obama has focused on the celebrity aspects of his job and neglected doing much of anything that involved actual work.
The Amazing Presidential Power-Grab.  With little consternation or lasting opposition, the Obama administration has dramatically usurped congressional power at the expense of popular will and the rule of law.  Numerous dastardly bureaucratic coups — motivated by the president's progressive and political agenda — have amazingly failed to engender a serious response.  What began as a trickle of presidential power-grabs has turned into a cascade of executive roguery.  A list of them is worth some review and reflection.
It Will Cost Young Illegals $465 to Stay in the U.S. Under New Obama Immigration Policy.  The Obama administration said Friday that it will start charging young illegal immigrants $465 for temporary work permits to avoid deportation under a new immigration policy announced earlier this summer.  The U.S. Citizenship and Immigration Services will begin accepting applications Aug. 15 for the DREAM Act-like policy, which is being implemented without congressional approval.

Obama's power grab flouts Constitution.  Democrats and Republicans alike should be distressed by President Barack Obama's disregard for constitutional limits on his authority.  The president's flouting of the separation of powers risks turning this country into something other than a representative democracy. [...] In a blatant challenge to the legislative branch, Obama by executive order tossed out the Clinton-era welfare reform that required able-bodied aid recipients to work, saying the federal government will no longer enforce the law.  This follows the president's unilateral rewrite of immigration law, using an executive order to implement elements of the DREAM Act, which Congress refused to adopt.  He also has thumbed his nose at the No Child Left Behind Act, and has put in place cap-and-trade carbon rules that were specifically rejected by Congress.  He can't do these things, by any reading of the Constitution.  And yet he is.
Obama's Overreaches: The president has repeatedly ignored separation of powers.  [Scroll down]  While much of this might seem like an arcane legal dispute, it is part of a disturbing trend.  The Obama administration has developed a penchant for unilateral action that would make even the most ardent advocate of an imperial presidency blush.  On issue after issue, the president insists that "we can't wait."  He won't wait for a Congress that may not agree with his ideas for remaking America; he will simply act all by himself.
Obama's Communist Mentor.  Americans have lived through nearly four years of what can only be described as an attempt to take over our government and "fundamentally transform" it away from the limits of the Constitution to a nation in which the government, under Obama, seized General Motors to nationalize it, imposed Obamacare to take control of our healthcare system, and attacked "millionaires and billionaires" as greedy capitalists.  His slogans have been "change" and "forward", longtime favorites of communists.
Will Obama Keep Power 'by Any Means Necessary'?  [Scroll down]  Obama may not be fond of governing, but he certainly does enjoy issuing executive orders — more than 900 so far.  As American Thinker's Warren Beatty points out, these little-reported edicts reveal an all-too-predictable pattern:  concentrating all national power and resources in Obama's hands, in case of "emergency."  So far, Obama has granted himself the right to control all transportation, including highways, airports, seaports, and railroads, and all modes of communication, storage facilities, electrical power, gas, petroleum, fuels, and minerals.  Not so coincidentally, he's also given himself the right to control you.  Executive Orders 11002, 11000, and 11004, respectively, give government the right to register all persons, assign them to work brigades, and relocate them.
Barack Obama And Ruling By Presidential Decree.  The America that has flourished for more than two centuries is being quietly but steadily dismantled by the Obama administration, during the process of dealing with particular issues. [...] If laws passed by the elected representatives of the people can be simply over-ruled unilaterally by whoever is in the White House, then we are no longer a free people, choosing what laws we want to live under.  When a president can ignore the plain language of duly passed laws, and substitute his own executive orders, then we no longer have "a government of laws, and not of men" but a president ruling by decree, like the dictator in some banana republic.  When we confine our debates to the merits or demerits of particular executive orders, we are tacitly accepting arbitrary rule.
'Issues' or America?  The America that has flourished for more than two centuries is being quietly but steadily dismantled by the Obama administration, during the process of dealing with particular issues.  For example, the merits or demerits of President Obama's recent executive order, suspending legal liability for young people who are here illegally, presumably as a result of being brought here as children by their parents, can be debated pro and con.  But such a debate overlooks the much more fundamental undermining of the whole American system of Constitutional government.
Immigration agents sue to stop Obama's non-deportation policy.  Saying they are fed up with being told that they can't do their jobs, 10 immigration agents on Thursday [8/23/2012] sued the Obama administration to try to overturn the president's new non-deportation policy.  The lawsuit, filed in a federal court in Texas, adds a legal controversy to the political fight that has been brewing over President Obama's immigration policies, which have steadily narrowed the range of immigrants whom the government is targeting for deportation.
Leakgate: Obama's Unspinnable Scandal.  Even getting the Joint Chiefs chairman to admonish the ex-Navy SEALs who are condemning White House leaks won't extinguish Obama's Leak-gate scandal.  These heroes are dead right.
Obama's government: A monolithic shrine.  The French president appoints the prime minister, and if his or her party dominates the Assembly — and right now the Socialists do — he or she can all but direct government policy.  In other words, rule by fiat.  Emotionally, this is how President Obama visualizes himself now.  He's not quite at the apex of this monolithic government, but he ignores or finesses all impediments presented by the Congress, the Constitution or the judiciary.  His actions in unilaterally directing major changes to immigration laws and welfare reform are striking examples.
Welfare Reform's Work Requirements Cannot be Waived.  Under the guise of providing states greater "flexibility" in operating their welfare programs, the Obama Administration now claims the authority to weaken or waive the work requirements that are at the heart of welfare reform. But Congress intended that those requirements be absolutely mandatory in all instances and specifically withheld any authority to weaken or waive them.  Waiving the work requirements that are at the center of the 1996 welfare reform is not only terrible policy, but also a violation of the President's constitutional obligation to "take care that the laws be faithfully executed."
The Problem with Barack.  [T]his man seriously seems to believe he is a king, free to pick and choose the laws and statutes he will obey or enforce, duly empowered to impel or forbid action by executive decree, without legislative approval.  America is a republic.  We elect representatives to do our bidding, to govern with the consent of the governed.  We have a Constitution, which sets plainly the rules by which the branches of government interact and act on issues of importance, as well as the anomalies of the day.  Barack Obama may be the executive — in a federal system comprising three equal branches of government:  Executive, Legislative, and Judicial — but he is not an emperor.  He cannot make law.  Or at least, he is not empowered by the Constitution to do so.
The Latest Dereliction of Duty: The Sequestration Law.  Friday was the day by which under a law passed by Congress and signed by President Barack Obama the White House needed to detail the defense cuts it would make to comply with the upcoming sequestration under the Budget Control Act.  But that's messy in the middle of an election campaign in which voters might see what plants, bases and production lines might be slashed.  So Obama ignored the law.  No list.  It's not clear whether he will ever follow the law.
'We Can't Wait' agenda shreds Constitution.  What or who exactly will stop President Obama in his second term if he ignores the Constitution?  What if he just decides to stop enforcing laws, as he decided to stop defending the Defense of Marriage Act in the courts?  Or if he interprets them in such a way as to not enforce them, as he did when he granted states a way out of the work requirements under the Welfare Reform Act?
Constitutional experts call Obama's abuse of power historic.  As president, Barack Obama has made a habit of bypassing or ignoring constitutional limitations on his power, a panel of experts told the House Judiciary Committee on Wednesday. [...] "The administration has repeatedly put its partisan agenda above the rule of law," committee chairman Lamar Smith (R-Texas) said.  "In doing so, it has eroded the constitutional and legal foundation that have kept America prosperous and free for over 200 years."  Smith enumerated other instances of alleged presidential overreach, including Obama's decision to stop enforcing parts of U.S. immigration law to allow illegal aliens to stay in the country legally if they meet certain criteria and waivers issued to the No Child Left Behind Act and welfare reform bill that Smith said "effectively rewrite the law instead of enforcing it."
House Judiciary Committee Considers Obama's 'Go It Alone' Approach to Executive Power.  Citing use of executive privilege to withhold information from Congress, using end runs around Congress on issues of immigration and appointment and violating religious freedom, Congressional Republicans and constitutional experts said President Barack Obama has abused his power.  "President Obama has treated the Constitution's separation of powers as if it were a matter of convenience that may be ignored when it gets in his way," Sen. Mike Lee (R-Utah), a former constitutional attorney and Supreme Court clerk, said in his testimony to the House Judiciary Committee Wednesday.
Trashing the Constitution.  Constitution Day is Monday, Sept. 17, so I compiled a non-exhaustive list of the ways Barack Obama has violated the Constitution. [...] [For example,] Refusing to enforce laws that he doesn't like.  Article II, Section 3 states that the president "shall take care that the Laws be faithfully executed."  Mr. Obama directed Attorney General Eric H. Holder Jr. to ignore the Defense of Marriage Act and even work against it in the federal courts.  Mr. Holder also suspended newly enacted photo ID voter laws in Texas and South Carolina.
Obama's Skipped Intel Meetings Under Scrutiny.  A simple three-page report by the Government Accountability Institute tallying up the number of days President Barack Obama has attended his Presidential Daily Brief (PDB) on intelligence has ignited a firestorm of controversy that places the attacks on the U.S. embassy in Cairo and the murder of U.S. Libyan Ambassador Chris Stevens and three members of his staff in a new and critical light.  The report found that of the first 1,225 days of his time in office, Mr. Obama has attended less than half (43.8 percent) of his daily intelligence briefings.
Obama's Daily Intelligence Brief… Who Cares?  [T]he news that President Obama has been absent from so many of his daily intelligence briefings is a stunner.  There's simply no good excuse for it.  It comes on the heels of reports from Bob Woodward that Obama doesn't regularly attend "security briefings."  According to a study by the Government Accountability Institute, based on the publicly available White House calendar, Obama failed to attend a single Presidential Daily Brief (PDB) in the week leading up to 9/11 and the chaos that erupted in the Arab world.  The mere fact that we were approaching 9/11 was itself a crucial reason for attending not one but all of the briefings.  Obama attended none.
Sebelius' Impunity On Hatch Act Violation Portends More Dirty Government.  The White House has dismissed HHS Secretary Kathleen Sebelius' politicking on the taxpayer dime as "an inadvertent error" and is letting her get away with it.  It shows a pick-and-choose attitude to law.
Senators join suit over Obama's constitutional powers.  Republican senators on Wednesday [9/26/2012] joined a lawsuit arguing President Obama violated the Constitution when he used his recess appointment powers earlier this year to fill several controversial posts.  The move intensifies a simmering separation-of-powers battle over Mr. Obama's executive powers, which Republicans say he has abused during his term in office.
The post-constitutional president.  Mr. Obama has simply refused to uphold federal laws with which he disagrees, including the Defense of Marriage Act and immigration statutes.  After confirming that in the absence of congressional authorization he lacked the authority to give what amounts to an amnesty to young illegal aliens, Mr. Obama went ahead and declared it by executive fiat. [...] Ever since taking office, the Obama administration has sought to accommodate Islamist demands that freedom of expression be curbed lest it offend Muslims and stoke violence.
A lawyer by training, Obama ignores rules of law.  "The Illegal-Donor Loophole" is the headline of a Daily Beast story by Peter Schweizer of the conservative Government Accountability Institute and Peter Boyer, former reporter at the New Yorker and the New York Times.  The article tells how Obama.com, a website owned by an Obama fundraiser who lives in China but has visited the Obama White House 11 times, sends solicitations mostly to foreign email addresses and links to the Obama campaign website's donation page.
Obama's Constitution.  President Barack Obama is running roughshod over the Constitution, legal scholars say, by disregarding it, changing laws outside the legislative process, and extending federal power in unprecedented ways.  The president has "profound disdain for the Constitution," said David Rivkin, a lawyer at the BakerHostetler law firm in Washington, DC. [...] Under the president's judicial philosophy, legislation ideally "streamlines government action" so it can "grow and experiment," all while overcoming barriers like the checks and balances built into the Constitution, said Charles Kesler, a professor of government and constitutional scholar at Claremont McKenna College.
The remarkable, unfathomable ignorance of Debbie Wasserman Schultz.  On 29 May 2012, the New York Times published a remarkable 6,000-word story on its front page about what it termed President Obama's "kill list".  It detailed the president's personal role in deciding which individuals will end up being targeted for assassination by the CIA based on Obama's secret, unchecked decree that they are "terrorists" and deserve to die. [...] At a weekly White House meeting dubbed "Terror Tuesdays", Obama then decides who will die without a whiff of due process, transparency or oversight.
Obama the intimidator.  There's no getting around it, Mr. Obama just doesn't like or respect Congress.  Apparently, it's a feeling he shares with his wife.  "It was one of the areas where the Obamas seemed to reinforce and stoke each other," journalist Jodi Kantor has written.  "The president's opinion of Capitol Hill legislators was low, and his wife's was lower."  Mr. Obama demonstrates his disdain most of all by constantly bypassing the other co-equal branches of government, issuing executive orders to impose an agenda that he cannot pass through the democratic process.  He often justifies these arguably unconstitutional acts with some variation of "We can't wait for Congress to act."
Wanted For Manslaughter And Treachery.  When I heard that there's a very good chance that the White House as well as other members of the military knew what was going on, and obviously someone had to say, "Don't go rescue them."  Because every person in the military, their first response is, "We're going to go rescue them."  We need to find out who it was that gave that command."  So who gave that command?
Why the Benghazi buck must stop with Obama.  Obama must have been fully apprised of the situation in Benghazi.  If not, this was dereliction of duty.  And if Obama was fully apprised, then he must have asked what action, if any, was being taken (or contemplated) to help our people.  If he didn't ask, then again, this was dereliction of duty.  If Obama asked what action, if any, we were taking to help our people, he would have been told that we weren't going to deploy our military.  Presumably, Obama then asked for an explanation of this decision.  If he didn't, this was dereliction of duty.
There Must Be A Reckoning.  Since 20 January 2009, we have witnessed more un-American behavior by a large group of our elected officials and their appointees than we have been subjected to over the last fifty years. [...] Since that cold day when Barack Hussein Obama took the Presidential Oath Of Office, knowing full-well that he had no intention of preserving, protecting, or defending The Constitution Of The United States Of America, all of our freedoms and liberties have been under continual and relentless assault.
This Question Of Treason.  While our president and members of his administration continue to test new lies trying to deflect blame for this tragedy, a far greater crime than refusing to help American diplomats in peril is being revealed; a crime much more sinister when the question of our president's dubious and possibly duplicitous loyalties and sympathies are brought into question.  This dark page of America's recent history will be both an outrage and shame that America will need to live down and revenge as soon as possible, but there is another question on the horizon.  Was President Obama supplying weapons to al-Qaeda?
Benghazi Reveals Obama-Islamist Alliance.  The purpose of the AQ attacks was to embarrass the United States, and to show us to be a paper tiger, precisely the way Ayatollah Khomeini did to Jimmy Carter.  AQ also wanted to tear off the cover of the Benghazi arms-smuggling operation, to make us look like a treasonous ally, which, as it turns out, we are.  All of our allies around the world, from South Korea and Japan to Israel, Australia, and Norway, must now be reassessing our reliability.  One major betrayal of our allies is enough to shatter sixty years of faith in American leadership.
A Nightmare Scenario.  Let's suppose that Barack Obama gets narrowly re-elected.  And then, in a week or a month, the lid blows off the Benghazi story [...] The House, almost surely to remain in Republican hands, might well impeach the president.  Only a majority vote is needed to impeach.  The Senate, whichever way it goes, is probably unlikely to muster the two-thirds vote needed to convict.  But would Obama be able to govern under those circumstances?  This wouldn't be about personal failings such as nearly brought President Clinton down, it would be about violating his oath of office.
The Constitution: For Obama, Just Another Bump in the Road.  Barack Obama's intrusions on the constitutional powers of Congress, his failure to fulfill his own constitutional duties, and his willingness to sign legislation which includes provisions which violate the Fifth Amendment to the Constitution render him unfit to serve as president.
Obama Revealed More Than His Birth Certificate Last Year.  [Scroll down]  The only issue that Barack Obama and his White House staff had settled was that he used a fake birth certificate image to convince voters that he was born Hawaii, that he is an American citizen, and that he is eligible to be president.  But Obama cannot be president.  He is an imposter and usurper who refuses to provide any concrete evidence of his born identity, his birthplace, his citizenship, his parents' names and citizenship, or his own eligibility.  If these were made public, they would prove that Obama is usurping the office he now holds.
Obama Administration Makes A Mockery Of The Rule Of Law.  Arbitrary ObamaCare waivers are bad enough by themselves.  They are truly ominous as part of a more general practice of this administration to create arbitrary powers that permit them to walk roughshod over the basic rights of the American people.  The checks and balances of the Constitution have been evaded time and time again by the Obama administration, undermining the fundamental right of the people to determine the laws that govern them, through their elected representatives.  You do not have a self-governing people when huge laws are passed too fast for the public to even know what is in them.
Is Obama hiding the truth about Benghazi because the truth would impeach him?  Barack Hussein Obama, who now has four years as an executive order-wielding dictator, has no reason not to tell the truth to the loved ones of the slain Americans in Benghazi and to America at large, other than this one:  the truth would impeach him.
Obama Admin Gave Sensitive Information to 'Zero Dark Thirty' Crew.  The Obama administration gave the filmmakers behind the upcoming Osama bin Laden film "Zero Dark Thirty" information that could cause an "unnecessary security and counterintelligence risk" if released to the public," according to Judicial Watch.
"Give me your tired, your poor, Your huddled masses yearning to cash welfare checks…"  Federal law prohibits the admission of aliens to this country who are "likely at any time to become a public charge."  This is one of many statutes that the scofflaw Obama administration brazenly flouts.  Rather than ensuring that immigrants will not become liabilities to the public purse, the Obama administration explicitly lures them to the U.S. with promises of lavish welfare benefits — a policy that is both illegal and perverse.
Obama: I am the law.  Obama isn't the first president to abuse the clause to appoint nominees that the Senate wouldn't confirm.  He is, however, the first to invoke the power when the Senate was — according to its own rules — actually in session.  The White House called the "pro forma" sessions adopted by then-Senate Majority Leader Harry Reid "a procedural trick" aimed at unjustly stifling his ability to bypass Senate confirmation.  Forty-two Senate Republicans have signed an amicus brief in another challenge to Obama's recess appointments pending before the D.C. Circuit.
Court casts doubt on Obama's recess appointments.  A federal appeals court on Wednesday questioned not only President Obama's controversial January recess appointments but the entire system of such appointments, using oral arguments in a case to cast doubt on whether presidential powers can ever be exercised unless Congress has adjourned for good.
Can Obama Be Impeached?  If Obama wasn't qualified to be president, then he couldn't be legally elected president, and technically he isn't the president, in which case he can't be impeached.  [Video clip]
Obama Gives Amnesty to Criminal Illegals and Illegals Under 30.  Obama is basically giving amnesty to illegal immigrants who have committed petty crimes and less than three misdemeanors.  We also no longer deport illegals under 30.  They could have come here last week, which exceeds Obama's promise to only give amnesty to children brought here at a young age and who meet certain criteria.  Millions of unauthorized illegals have been given permanent status.  They are Obama's new Democratic voters.
Questions the Press Doesn't Ask.  An unpaid intern working in the office of Democratic New Jersey Senator Robert Menendez (who was reelected on Nov. 6) was arrested on Dec. 6.  It seems the 18-year-old illegal immigrant from Peru (who helped the senator on immigration issues!) was a registered sex offender.  ICE knew about him, but he was repeatedly told by higher ups at DHS, according to a government source, to delay the arrest until after the election.  If true, that's a remarkable politicization of law enforcement.
Krauthammer slams Obama for 'illegal and unconstitutional' regulatory overreach.  As the number of regulations from the federal government is continuously expanding, the comment period for regulations has been shortened from 60 days to 45 days, a move that Krauthammer said overwhelms small businesses. [...] "So all of these things happened unilaterally.  A lot of them, I think, are actually illegal and unconstitutional.  But even if they are constitutional, they are incredibly destructive of small business."
Obama Seizing Sole Authority for US Defense.  In an attempt to seize total control over national security and bypass congress, a frightening new step by the Obama Administration is coming into play.  As noted in Friday's Wall Street Journal in an op-ed by John Bolton and John Woo, a State Department advisory group that is run by former Secretary of Defense William Perry is advising that the U.S. and Russia both reduce nuclear weapons without a treaty, as a treaty would require ratification by Congress.  This would allow Obama and his executive branch to unilaterally cut our nuclear weaponry and ignore the treaty clause of the Constitution.
Obama Wants 'Unlimited' Power To Borrow.  President Obama has reiterated his demand to have Congress cede him the power to grow the debt unchecked by the legislative branch.
Obama's Lawless Presidency.  He's continued to bend rules, vacate laws, dismantle transparency regulations, and turn a blind eye to union violations during his whole time in office.  Obama has also used Executive Orders to skirt both Congress and the law.  Take for instance, Obama's attempt to implement the Disclose Act through the back door using an EO.  The Disclose Act was an effort that failed in Congress but Obama thought he could just ignore Congress and implement it anyway.  This fits with Obama's announced policy that he would go around Congress whenever he feels like it.
Violating the WARN Act.  [Scroll down]  There is no legal authority to allow the president to direct contractors not to comply with federal law or to promise them that the government will cover their financial liability for such a violation.  Sending employees layoff notices 60 days prior to their being laid off is required under the federal Worker Adjustment and Retraining Notification (WARN) Act, a law Obama supported when he was a senator.  In 2007 when he wanted to amend the WARN Act to force employers to give 90 days' notice instead of just 60, Obama said that "the least employers can do when they're anticipating layoffs is to let workers know they're going to be out of a job and a paycheck with enough time to plan for their future."
Obama administration tells contractors again: Don't issue layoff notices.  The Obama administration issued new guidance intended for defense contractors Friday afternoon [9/28/2012], reiterating the administration's position that the companies should not be issuing layoff notices over sequestration.  The Labor Department issued guidance in July saying it would be "inappropriate" for contractors to issue notices of potential layoffs tied to sequestration cuts.  But a few contractors, most notably Lockheed Martin, said they still were considering whether to issue the notices — which would be sent out just days before the November election.
After Obama guidance, Lockheed won't issue layoff notices this year.  Lockheed Martin said Monday it will not issue employee layoff notices this year, ending an election-year showdown with the Obama administration.  The company said it based its decision on new guidance issued Friday by the Office of Management and Budget and the Pentagon. [...] The decision by Lockheed means tens of thousands won't get layoff notices days before Election Day, which might have cast a crucial blow against President Obama's reelection chances.
White House Tells Contractors to Break Federal Law and Not Inform Workers They Will Be Laid Off.  Due to Obama's failure to lead and craft a solution to the debt crisis, the Department of Defense is slated for massive cuts.  These cuts mean massive layoffs in both the DoD and affected industries.  200,000 or more layoffs.  The law requires that companies which know they're going to lay people off provide advance notice of this.  But Obama doesn't want those notices going out before the election.
The Law Means Nothing.  Because it is law that defense cuts will absolutely happen under present law within sixty days of the election, defense contractors must comply with the WARN Act and notify employees of potential layoffs.  But Lockheed Martin will not do this due to pressure from the White House.
Lockheed says it won't issue layoff notices.  Lockheed Martin on Monday [10/1/2012] backed down from its summertime threat to issue layoff warnings to employees just before the November election, saying the Obama administration has given assurances that it won't immediately kill any major defense contracts when automatic spending cuts go into effect in January.
Obama To Defense Contractors: Skip The Pink Slips.  When President Obama took the oath of office, he swore to uphold the Constitution and see that the laws of the United States were faithfully executed.  He lied, and that lie was exposed in the administration's weekly document dump last Friday [9/28/2012].  It included a memo from the Department of Labor telling defense contractors not to obey the law and that, if they don't, U.S. taxpayers will foot their legal bills when fired employees sue them for breaking the law.
A Guide to the Obama Administration's Five Major Scandals for Mainstream Media Dummies.  Scandal 4:  Obama administration tells defense contractors to violate federal law. [...] Wrap that around your head for a second — the government is commanding contractors to break the law, which in ordinary circumstances would trigger monetary penalties and might render that contractor ineligible for future government contracts.  And on top of that, the government says it will use taxpayer dollars to pay the penalties, which would go to the government — in other words, itself.  How is this scandal not both a late night comic's dream and a fertile patch for an intrepid reporter to cultivate?
Obama Urges Companies to Break Federal Law for His Reelection.  For Obama and the left, the law is merely a suggestion for what they can do.  Can't get something through Congress?  Simply issue an executive order.  Can't get an appointment through the Senate?  Simply "declare" the Senate in recess and appoint away.  Act now and let the judges sort it out later.
Obama Urges Companies to Break Federal Law for His Reelection.  Yes, the White House just told companies to violate federal law and that, if they get in trouble for it, the government, i.e. taxpayers, will cover their fines.  Let's remember, this federal law requiring the lay-off notices, the WARN Act, was passed in 1988 by a veto-proof Democrat Congress.  It went into effect without President Reagan's signature.  It was an urgent matter for Democrats, until, apparently, they didn't like the consequences of it.  Nothing must interfere with Obama's reelection.  Not even federal law.
Is This The Most Criminal Act In Obama's Criminal Presidency?  As a result of Obama's failure to produce a budget, just before this election a process called Sequestration will go into effect.  This will automatically mandate across the board cuts in government spending and the military will be hardest hit. [...] But Obama still doesn't want to add to the unemployment numbers just before the election.  In 1988 the Democrat Congress of the day passed a law called the WARN Act which requires defense contractors to warn their employees of impending layoffs.
Senator Graham: Obama Is Guilty of a 'Mini-Coup'.  This week, sequestration made headlines again, as Lockheed Martin announced its intention to fall in line with the executive branch's astonishing request that defense contractors wilfully violate the WARN Act.  Per its declaration, the firm will defer sending layoff notices made necessary by the sequestration law; and in return they will receive immunity from the consequences, along with a promise that any fines will be picked up by Uncle Sam.
I want you to THANK these good people right here for keeping up with all the requests! OK?
http://www.akdart.com/obama86.html#10
I say there … Political correctness has caused deafness when it comes to a single word!  Impeachment! For our media, even congress is not that deaf it seems!  I suppose our corporately owned, and foreign controlled media will have its poll numbers of acceptability to now be below congress!
Americans Believe In LIFE, warts and all, with Constitutionally derived law and order and We ARE the CONSERVATIVE Majority!  If you doubt that, consider 170-200 Million people stand today at the ready with 300 million weapons to defend their families and generations to come from corrupt – cabal – statists who can do nothing but fake their polls and stuff ballot boxes, and pull hostile take overs like in media to win power!

Related
Mix Well, Heat and Eat: Instant Statism!  (Lot of explaining some will do here, humm humm humm)
The Prophets Of Doom solving America's Toughest Problems by Denying the Obvious Solutions!
Focus Benghazi: Denying of Security to Death by Obama Clinton!
Stepping over Neanderthals (the left) to Rally Solutions!